Guide to Going Racing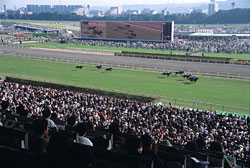 There are no dress codes at JRA racecourses.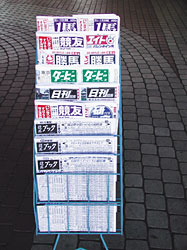 You can purchase "Racing forms"
at or near the racecourse.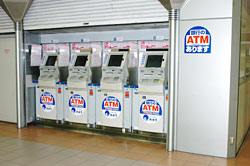 ATM machines are available inside the racecourse.
Dress Code
There are no official dress codes for visiting the racecourse - anything from T-shirt and jeans to shirt and khakis would work. If you have reserved seating, "smart casual" is preferred.
What to bring
Binoculars:
With a pair of binoculars, you can watch the parade ring or warmup without having to secure a spot up close.
Pencil/pen:
If you're the superstitious type, a lucky pen or pencil may guide you to a winning ticket when filling out your betting cards!
Umbrella:
If the weather forecast calls for rain on a cloudy day, we suggest you bring an umbrella with you just in case. Some racecourses have convenient stores (concession stands) which sells umbrellas.
Light jacket (autumn/spring):
Especially during the spring and fall, the weather does get cooler as the day approaches its end. In those days, we prefer you bring a light jacket.
How to get to the tracks
Public transportation is also available and allows for easy access to the racecourses. Most racecourses are relatively close to the train stations (or, are directly connected to the racecourse via underground pathways!). If the nearest train station is far from the racecourse, there are shuttle buses running between the two spots.
You may come to the racecourse by car, as all racecourses have parking lots (although limited!).
> Please refer to the "Access" section of each racecourse/WINS facility you wish to visit.