November 24, 2022 (Thursday)
Today, the Joint Press Conference, attended by the connections of foreign horses, was held at Tokyo Racecourse after the morning workout. Questions and answers are as follows:
<At Tokyo Racecourse>
Weather: Fine
Going: Sloppy (dirt course)
Grand Glory (GB, M6, bay)
- jogged 1/4 lap, cantered 3/4 lap right-handed on dirt course
(exercised from 6:57 to 7:10, ridden by Anais Dumont)
Trainer (T): Gianluca Bietolini
Jockey (J): Maxime Guyon
Q: This is your second visit to Japan following last year, when you finished 5th. Please look back on last year's Japan Cup and tell us how she has grown or changed over the past year and whether you think she can run better than last year.
T: Last year was the first experience for Grand Glory to participate in the Japan Cup. Last year, she arrived here in good condition, physically and mentally and was able to come in fifth, which was a good result for us. She was scheduled to retire after the race last year but was decided to run again this year. A year has passed since then and she has accumulated more experience with more starts. She also has experience of running in the Japan Cup last year, so we hope to get a good draw and look forward to a good race.
Q: How do you see the result of the Prix de l'Arc de Triomphe?
T: Prix de l'Arc de Triomphe is a tough race and the track condition was testing. Despite these, Grand Glory was able to turn in a terrific finish from racing in good position near the rear. Her performance in the last 600 meters was especially very good. I think that she is one of the top G1 mares. Her fifth in the Arc is more than we had expected and we are very pleased with the result.
Q: Please tell us about the condition of the horse after she arrived in Japan and your impressions of the new international stables, which is different from last year.
T: The mare is in very good condition. She had lost five kilos during the trip but she recovered quickly and is mentally in very good condition. We're very pleased with her. The new international stables are exceptional. Last year, we had to go through quarantine at a different place but this year, everything is done here and going smoothly. Thanks to the organizers who are doing everything to make our stay here pleasant, we are able to train her in good condition. Everything is going well.
Q: What is your ideal draw and track conditions for the race day?
T: Grand Glory can handle any type of track condition so we don't have any ideal track condition. Considering her versatility, it may be good to have soft ground because it would be a disadvantage for others and an advantage for Grand Glory. Regarding the draw, we hope that it would be 10 or less.
Q: What is your impression of Japanese horseracing and the Japan Cup?
J: I think that Japanese horseracing is very 'sélective (race with sustained pace)' compared to other countries where horseracing is very tactic. I have ridden in the Japan Cup long time ago, and I think we have a good chance of winning if we can get a good draw so we hope to get a good draw.
Q: Do you think Grand Glory has a chance of winning the race?
J: Of course, we are here because we think we have a chance of winning. She was fifth in the race last year and, as the trainer just mentioned, she is getting ready for the race in very good condition. She is relaxed and didn't lose too much weight during the transportation. So, unless we get a really bad draw, I think we have a good chance of winning the race.
Q: Grand Glory performed well in last year's Japan Cup and ran in this year's Arc as well. She seems to be a special horse at your stable.
T: Yes, she is very special and a dream mare for us. We are grateful for her second owner who let us train this exceptional mare. Her third owner also left the horse in our hands for one year. However, she will not be returning to our stable after the Japan Cup and all of us at the stable are very sad and will miss her very much.
Q: I've seen many races of Grand Glory and I respect her as a mare with lasting fighting spirit. You said that she lost five kilos during the transportation. I was a bit surprised because I thought that you usually didn't weigh horses in France. Do you usually weigh your horses at your stable and if so, what is her best weight? Also, I understand that she will be retiring after the race and that she will be breeding in Japan. When was this decides?
T: We're surprised that people think there are no scale in Europe. We think it is important for athletes to always keep track of their weight and we have been weighing our horses since 30 to 35 years ago. Her best weight is between 470 and 480kg. The reason why we mentioned she lost five kilos is because we wanted to say that she ONLY lost five kilos, as there are cases where a horse loose more weight during transportation due to stress or bad appetite. Regarding the second question, I don't know the details but we heard that the decision to have her breed in Japan was decided just recently.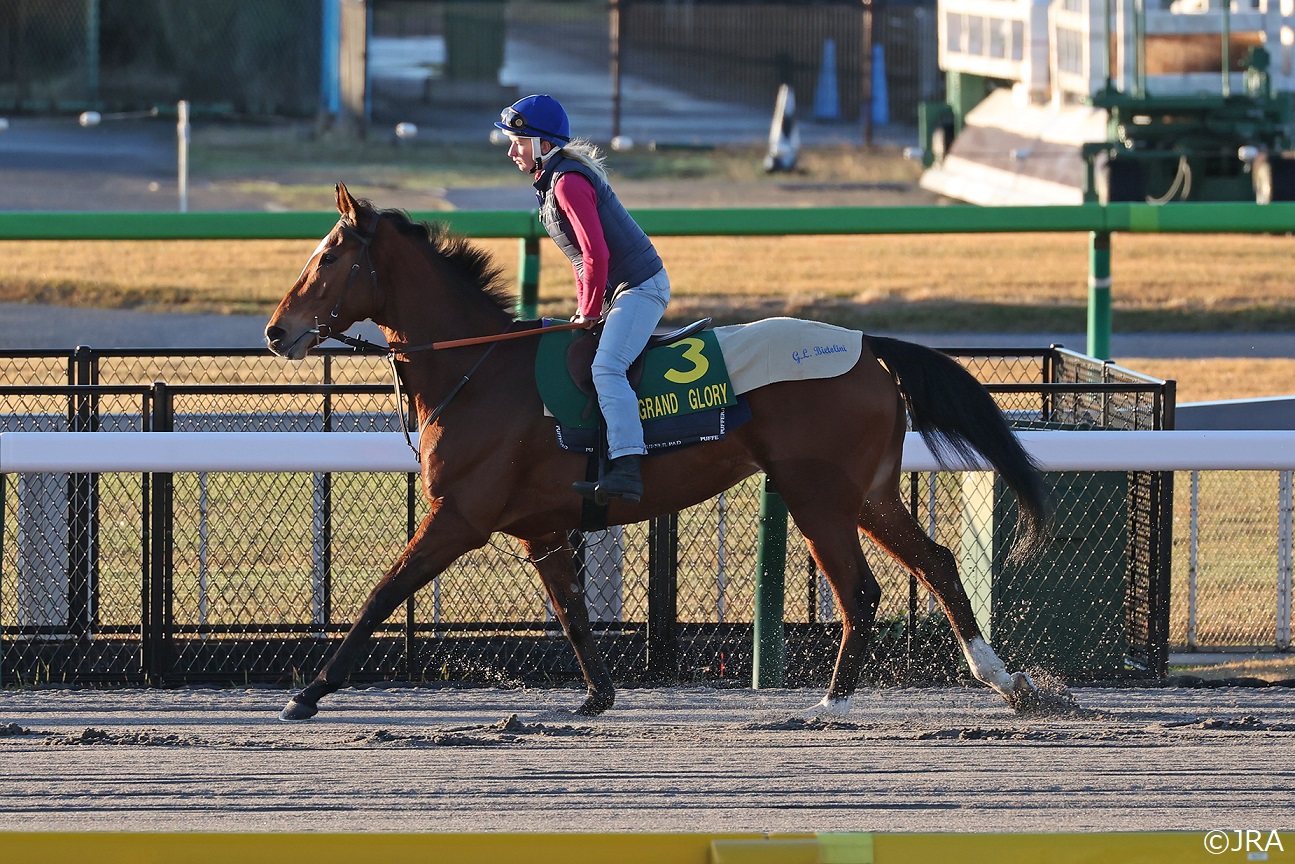 Grand Glory
Onesto (IRE, C3, chestnut)
- jogged 1/2 lap right-handed, cantered 3/4 lap left-handed on dirt course
(exercised from 6:37 to 6:50, ridden by Christophe Lemaire)
Trainer (T): Fabrice Chappet
Jockey (J): Christophe Lemaire
Q: Please look back on Onesto's performances in his past three starts, the Grand Prix de Paris, the Irish Champion Stakes and the Prix de l'Arc de Triomphe
T: As you can see in the video shown, his performance in the Grand Prix de Paris was very good and went as planned—although it was not a very big field, Onesto responded well according to how the race ran. His performance in the Irish Champion Stakes put him within the three best three-year-olds in Europe, so of course this race also went very well. Now, his latest start in the Arc was raced over very heavy ground and the colt struggled and was not able to bring out his usual performance in this race—like I said before, it was like racing a Ferrari on an off-road track in the Paris-Dakar rally.
Q: How is your colt's condition since his arrival here and what is your impression on the new quarantine facility within the Tokyo racecourse?
T: The trip to Japan went very smoothly—it was a 24-hour trip from our stables at Chantilly to the quarantine stables here at Tokyo Racecourse—the staff is happy with the wonderful facility and the climate is great for the horse too.
Q: The colt's name comes, I hear, from the word "honest". Can you give us your honest opinion on how your horse will fare in the Japan Cup? Please also point out his strengths.
T: Of course, we would like to give our best performance in this race—Onesto is also highly rated internationally too—and hope to come up with good results. As for his strong points, he is a good traveler and, in racing, he has a good turn of speed.
Q: What track condition and barrier draw will be ideal for your colt?
T: He would run best on firm track condition and as far as I've learned from the weather forecast for Sunday, it should be pretty firm on race day so no concern on that. He would not like to start from too far out in or too much on the inside, so somewhere in the middle would be good.
Q: How did you come to ask jockey Christophe Lemaire to ride in this race?
T: It was a decision by the owner to ask Mr. Lemaire who not only is a top jockey but a jockey with thorough knowledge of racing here in Japan.
Q: Will he still be in training next season as a four-year-old?
T: Yes, he will continue into his four-year-old season.
Q: How did he feel riding him this morning?
J: He felt very supple, relaxed and calm. My main objective to ride him today was to get acquainted with the colt heading towards a big race. I kept the work very light so I can't really judge him to the point where I can talk about his physical condition, but I felt that the colt knew what he was doing.
Q: What is your impression on the Japan Cup?
J: The Japan Cup has been a big international event ever since its establishment—It is a dream for any owner, trainer or jockey in Japan or abroad to win this race. This year, we have participants from a number of countries that have made the Japan Cup a truly international event thanks to the great efforts made by the members of the JRA. I am currently based in Japan and will ride a contender from France on this occasion. I am excited to face an international field of great horses in Japan and from abroad as well as a group of jockeys within Japan and from abroad that has never failed to inspire me. These international competitions will help further raise the level of the Japan Cup race.
Q: You will be riding again for owner Gerard Augustin Normand…
J: Yes, I rode Le Havre in the Prix du Jockey Club in 2009. I hope to do well for Mr. Normand on Onesto in Japan which has become my second home and make him happy.
Q: Do you have any plan to give him a stronger piece of work before Sunday?
T: He is fit and doesn't need any harder work. I want to keep him fresh for the race.
Q: Have you spoken with the colt's regular rider Stephane Pasquier for information or advice on Onesto?
J: I haven't contacted him yet but I've studied how he's ridden Onesto in his races this year. The key will be how I can preserve his energy during the early stages to bring out his best finishing speed (especially the last 300 meters).
Q: Mr. Chappet was saying that Onesto is best over firm tracks. Mr. Lemaire, you having the knowledge of the difference in "firm" between France and here in Japan, how would you judge his aptitude to the firm track here?
J: As you say, the track condition between Europe and Japan differs greatly especially when you refer to "heavy" tracks, the degree of softness (deepness) is much greater in Europe. However, when you refer to firmness, I don't think there is so much a difference, so I would say Onesto will be well suited to the firm tracks in Japan.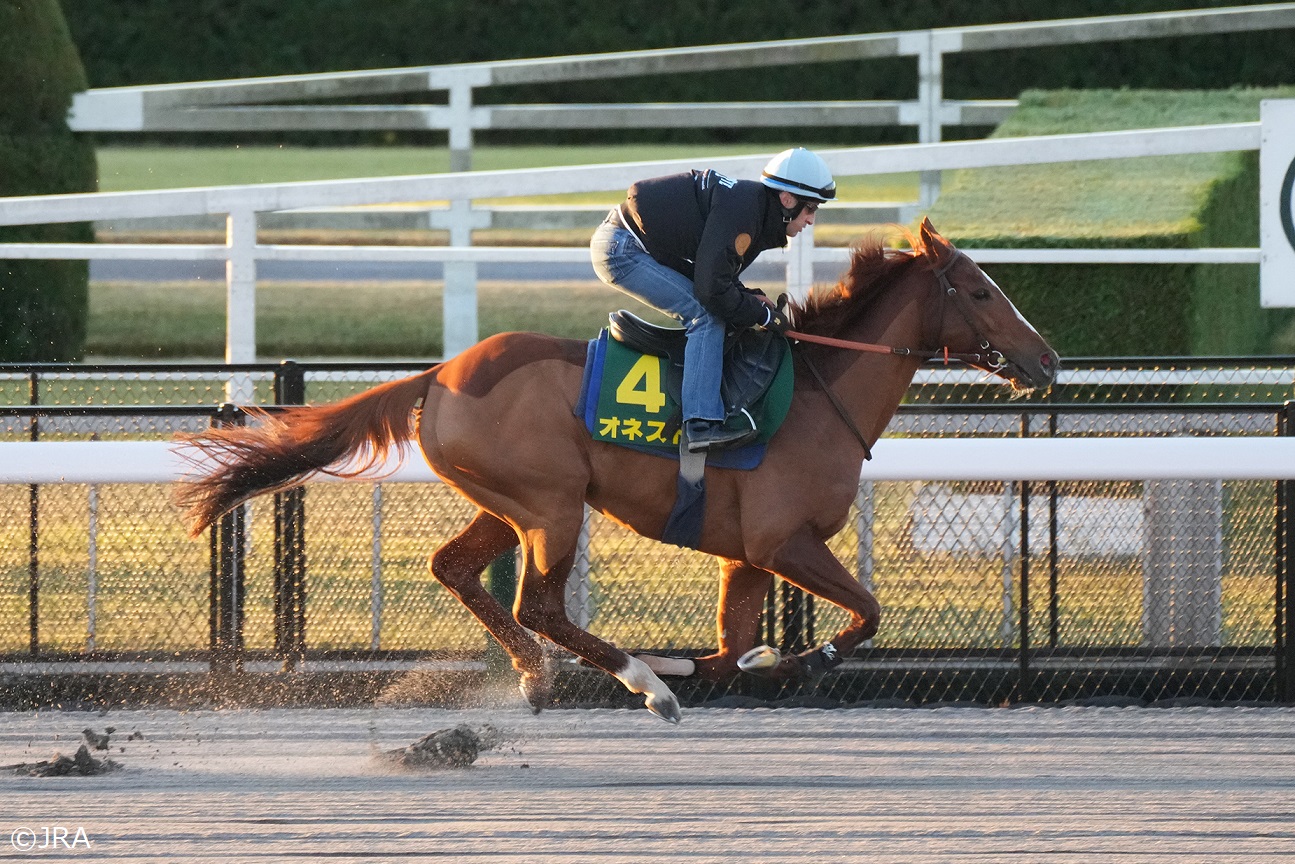 Onesto
Simca Mille (IRE, C3, chestnut)
- jogged 1/2 lap right-handed, cantered 3/4 lap left-handed on dirt course
(exercised from 6:37 to 6:50, ridden by Gregory Benoist)
Trainer (T): Stephane Wattel
Jockey (J): Gregory Benoist
Q: Could you look back on the colt's performances in this year's Grand Prix de Paris and the Prix Niel?
T: The colt has improved day by day, starting from smaller races with less runners, and in the Grand Prix de Paris, he showed a very good performance where he was a close second, beaten only by Onesto. We were fortunate to have won the Prix Niel, which is a prep-race for three-year-old's aiming for the Prix de l'Arc de Triomphe, but we decided to come to challenge the Japan Cup instead.
Q: The colt is in his first endeavor outside of France. Tells us how he handled the long journey to Tokyo and his current condition, along with your thoughts on the Tokyo Racecourse International Stables.
T: The transportation went smoothly and he swiftly regained whatever weight he had lost. It is his first time to leave France but the colt is very tough and laid back—he easily grew accustomed to his new surroundings. It is a big difference for us participants that the quarantine center is now at the racecourse. It is easier for the foreign horses to recover and go into the race 100 percent.
Q: What are his strong points and why did you choose the Japan Cup over the Prix de l'Arc de Triomphe?
T: His strong point is that he is a very easy horse to ride and when the race is run in a selective (sustained) pace, he can show his true strength. He is not the type to take the early lead but is very calm and responds well. It all depends on how he does in the stretch. It's every trainer's dream to enter their horse in the Arc, but this time we chose the Japan Cup because we wanted the horse to be fresh and thought that it might be too soon for Simca Mille to challenge the Arc. Looking at the colt's condition now, I think we made the right decision. The turf condition here is also ideal for the colt so I'm confident that he can show us his best performance on Sunday.
Q: What is your ideal stall number and turf condition for this race?
T: By watching previous Japan Cup videos, breaking from wide stalls makes it difficult to catch up and inner stalls also has its issues, so somewhere between four and 12 would be preferable. As for the turf condition, this morning the condition was ideal for our colt. I've heard that we are expecting some rain on Saturday so we have high hopes that the surface will be similar to today on race day.
Q: How did you find the horse after riding him this morning?
J: He's in good spirits, he handled the trip well and is very fresh. He felt very good running in the stretch this morning.
Q: Please tell us your impression of Japanese racing in general and the Japan Cup.
J: Japanese racing is very selective (with sustained pace) and with top quality horses. The Japan Cup is a race where the development is very quick. This suits my horse well. I hope it doesn't rain too much on Saturday because we wouldn't want the ground to be too soggy.
Q: What do you think your chances of winning are?
J: We have every chance to win—we wouldn't be here if we didn't. I hope I can let him run his best race and show good results.
Q: How do you think the horse will handle the paddock and the big crowd?
J: We are aware that there will be a huge crowd but the Japanese fans are quiet and the colt will probably calm down after going through the tunnel and by the time he gets to the gate. He's especially very quiet once in the gate—he enters into a race mode—he was calm in the gate at Longchamp as well.
Q: You had noted that the colt lost some weight coming over here. How many kilos did he lose?
T: Usually, horses lose weight when they travel. However, our colt hardly lost any weight at all and not only did he put it back on, it looks as if he gained some more. This is a good sign because he is a bit sensitive and tends to lose weight before races.
Q: What kind of meaning does it have that the owner Haras de la Perelle is coming to see Simca Mille run in the Japan Cup?
T: After being in a cooperative relationship for 25 years, having the owners from the Perelle farms, which is in Germany, come to see the colt has enormous meaning to us.
Q: Was beating the Japanese Derby champion Do Deuce one of the reasons to come and make a bid in the Japan Cup?
T: I think Do Deuce was not able to show his true strength in the Prix Niel and even though Simca Mille finished far in front of him, it wasn't the reason for us to come. We humbly accepted the invitation from the Japan Racing Association.
Q: How is he different compared to how he was before the Prix Niel and now?
T: There isn't much difference. From what I saw this morning, he is in a good mood, in good form and we are looking forward to the race. By not running in the Arc, the colt is fresher than the other runners so that is an advantage for us. We're hoping for a draw lower than 10 because from statistics, a draw wider than 10 reduces the chance to win.
Q: After winning the Prix Niel and passing up the Prix de l'Arc de Triomphe, you had two choices, the Breeders' Cup and the Japan Cup. What made you choose the Japan Cup?
T: We thought the course and the solid pace and the style of race development here better suited Simca Mille.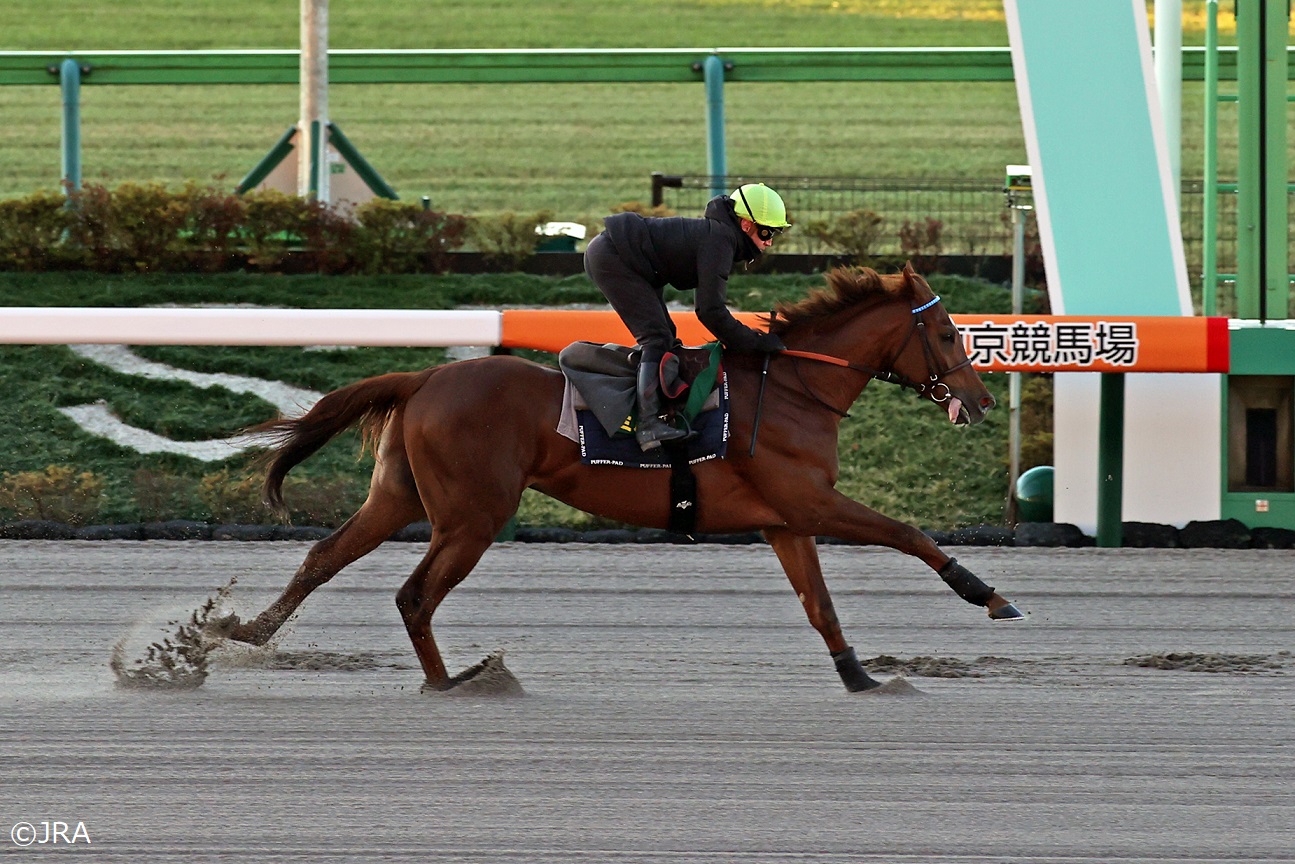 Simca Mille
Tunnes (GER, C3, chestnut)
- cantered 1-1/4 laps left-handed on dirt course
(exercised from 8:15 to 8:20, ridden by Bauyrzhan Murzabayev)
Trainer (T): Peter Schiergen
Jockey (J): Bauyrzhan Murzabayev
Q: Looking at his overwhelming 10-length victory in the Grosser Preis von Bayern, we feel that your colt has improved dramatically. What are your views about his uphill trend and where does his stamina come from?
T: Tunnes started his three-year-old season late in the summer and while we know that he is a colt of good talent, he has continued to improve as the season goes on—he also has a good mentality. His stamina comes naturally and he is in good condition to use it.
Q: How will your colt adapt to racing in Japan where much speed is required? Also, what is your preference regarding the barrier draw?
T: His last two starts were on heavy or soft going so it would be an advantage if the track here on Sunday has a little give—I hear there will be a certain amount of rain this week—and Tunnes then would have a better chance of winning the race. It would also be good if he could start from gates between 1 and 10.
Q: Can you tell us how his condition is since his arrival in Japan and your impression on the quarantine facilities?
T: He's handled the travel very well and I only first saw him yesterday morning but he appears to be in good form and the horse seems very comfortable. The new quarantine facilities are very well organized and made so that the stay here is comfortable.
Q: Lando left a great impression as the horse representing Germany, when he demonstrated great power to win against our Hishi Amazon. Do you think that Tunnes will be able to emulate Lando in becoming the next possible winner for Germany?
T: I have had the chance to ride Lando in Germany so I know the horse well. He and Tunnes are two completely different horses in character but both are talented horses of equal class so I am confident that Tunnes will do well in the Japan Cup.
Q: How did you feel riding Tunnes today?
J: He felt good and mentally happy so I was satisfied with his work today.
Q: Can you give us your impression on Japanese racing and the Japan Cup?
J: I've watched videos of the previous races and am aware that the Japan Cup is one of the biggest races in the world. I'm happy to be in an atmosphere of one of the leading races.
Q: What are you chances of winning and how do think the colt will do in the race?
J: I go into every race wanting to win. Tunnes is a horse with so much potential and all of his races, especially his last start, were incredible. I'm sure the Japanese runners are all strong candidates but I think we have a chance to win.
Q: You've ridden this horse from when he was a baby. What sort of feeling have you had with him? Did you realize he was going to be so good when you first rode him?
J: I rode him for the first time when he was two, and I did feel that he is a good horse from the time.
Q: You've brought Danedream to the Japan Cup before. Can you compare the strength of Tunnes with that of Danedream? The fact that you've brought him here means that you think he has a chance of winning the race…
T: The two horses are different. The Japan Cup was Danedream's last race of the season and I think she was a bit tired. Compared to her, Tunnes is very fresh, having raced in only three starts this year. So, I think he has a good chance of winning the race. 
Q: Specifically, when did you start to think about the Japan Cup?
T: We were already thinking about the Japan Cup when Tunnes won a graded race last year.  He won his three starts this year with comfortable margins, but we were already considering racing him in the Japan Cup, if invited, when he won his first race.
Q: Tunnes seems to be getting good results racing in front. Do you plan to position him in front in the Japan Cup as well?
T: He won wire-to-wire in his last two starts, but we were thinking of racing him in mid-division, around fourth to fifth position. He ended up setting the pace only because the other horses didn't come to the front. I think it would be good if he can race in his own rhythm on Sunday.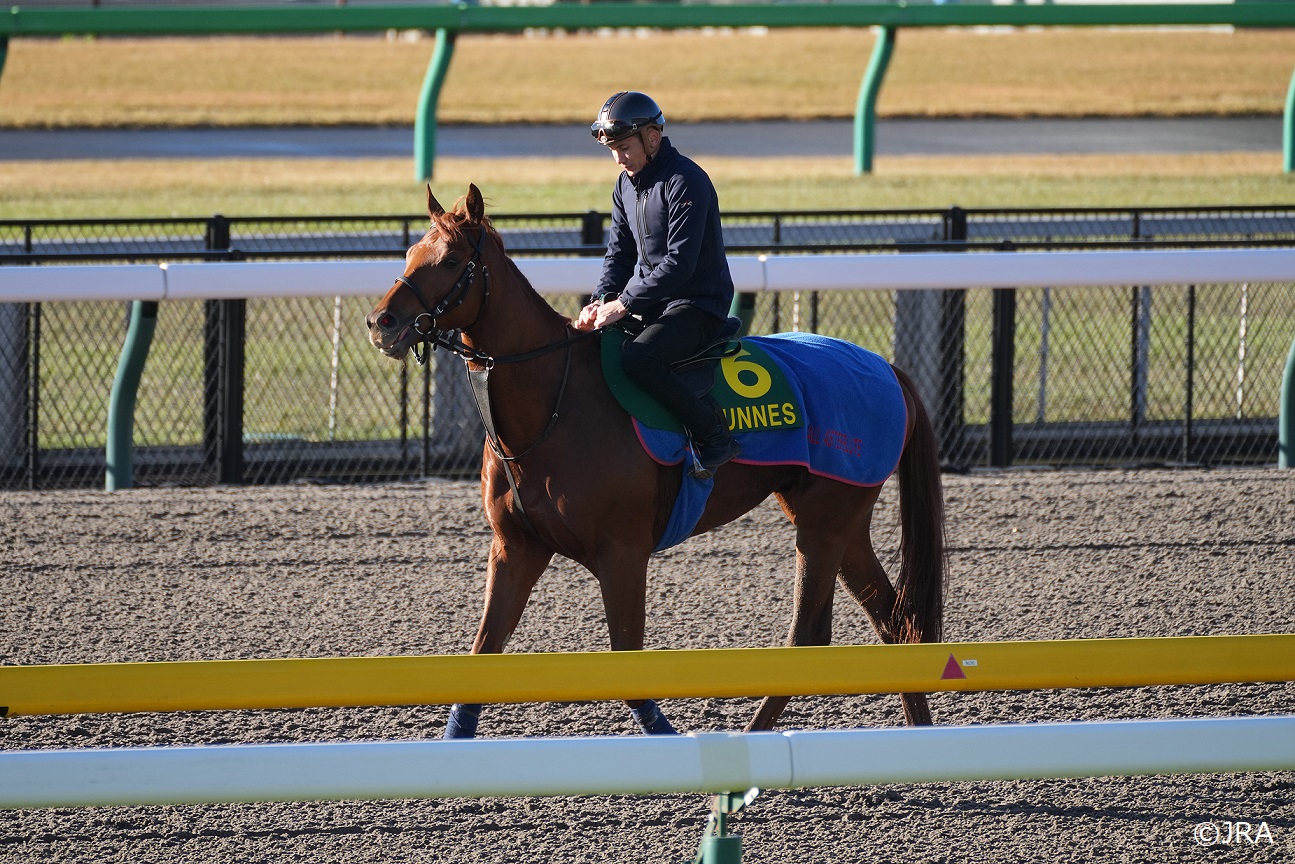 Tunnes