BEST HOSPITALITY for YOUR HORSE
BRAND NEW INTERNATIONAL STABLE AT
TOKYO RACECOURSE
For races at Tokyo Racecourse
A new International Stable will be opened at Tokyo Racecourse in Autumn 2022 to welcome overseas horses and horsemen. Horses can enter the stable directly from the airport for the quarantine and stay there until the race. Each barn has a dedicated grass paddock, air conditioning and remote monitoring system of the horse. The nice setting with brand-new facilities will ensure your horse settles quickly and smoothly in the new environment in Tokyo. The JRA's skilled professional team, including a veterinarian and farrier, will be on-site to support you during your stay.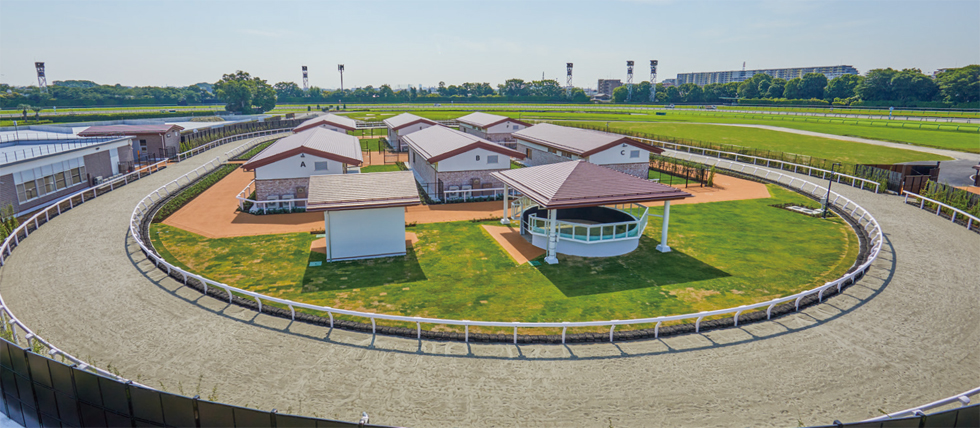 Facilities
The International Stable, surrounded by a 300m exercising Dirt track, has 6 barns. Each barn houses 2 horses and has a grass-picking area, monitor, tack room and a space for sta-ff to rest. Up to 12 horses can be accommodated at the same time.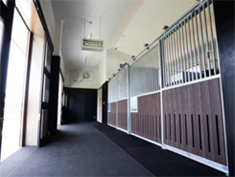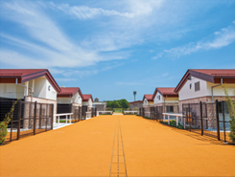 Exercising and track work
There are 3 tracks (300m exercising Dirt track, Dirt course and Turf course*) which can be used for training depending on the progress of the quarantine and the availability of the courses. Schooling of the racecourse will be permitted.
* Turf course will be available only after the import quarantine period has ended.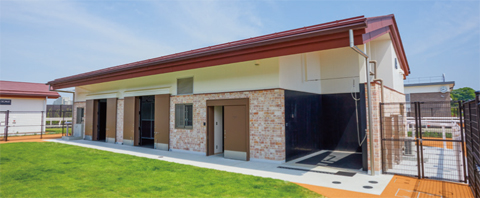 Introductory Video for International Stable at Tokyo Racecourse
Photo Gallery
OTHER QUARANTINE CENTERS (excluding races at Tokyo Racecourse)
We also have quarantine and stay bases in two locations in the east and west of Japan. Both options have good access to the airport and racetracks, and are fully equipped with accommodations and training tracks. We promise a comfortable stay for racehorses and training staff.
Via Narita International Airport
Horse Racing School
This quarantine center is located on the premises of Horse Racing School, about 60 minutes by horse van from the Narita International Airport. The facility offers a dirt training track of 1,400m (about 7 furlongs) in circumference and 17m wide.
Transportation time from Horse Racing School Center to
Each Racecourse / Airport by horse van
| | | |
| --- | --- | --- |
| From Narita International Airport: | 50km/31 miles | 1 hour |
| To Nakayama Racecourse: | 10km/6.2 miles | 0.5 hours |
| To Chukyo Racecourse: | 372km/231 miles | 5.5 hours |
| To Hanshin Racecourse: | 550km/343.5 miles | 10 hours |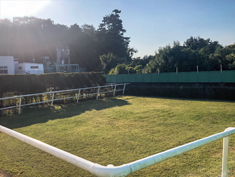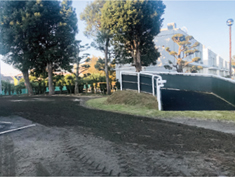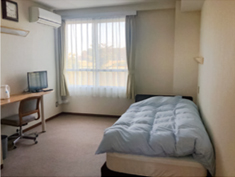 Via Kansai International Airport
Miki Horseland Park
This quarantine center is located on the premises of Miki Horseland Park, a public operated foundation in Hyogo Prefecture, in the western part of Japan. The facility offers a dirt outer track of 880m in circumference and 10m wide, and a smaller inner track of 627m in circumference and 10m wide.
Transportation time from Miki Horseland Park to
Each Racecourse / Airport by horse van
| | | |
| --- | --- | --- |
| From Kansai International Airport: | 150km/93.5 miles | 2 hours |
| To Chukyo Racecourse: | 225km/139.5 miles | 3 hours |
| To Hanshin Racecourse: | 50km/32.5 miles | 1 hour |