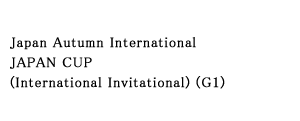 Sunday, November 26, 2023
Tokyo Racecourse
2,400m turf・3yo+
Maximum Number of Horses : 18

Nomination Close : Tuesday, October 3, 2023
Nomination Fee : Free of Charge
Deadline for arriving in Japan : Thursday, November 16, 2023
Declaration : Thursday, November 23, 2023
Declaration Fee : JPY300,000
1 ½ miles, 12f
Left Handed
Invitational
Weight
| Age / Sex | Northern Hemisphere Bred | Southern Hemisphere Bred |
| --- | --- | --- |
| 4yo+ C, H & G | 58 kg (128.0lbs) | 58 kg (128.0lbs) |
| 4yo+ F & M | 56 kg (124.0lbs) | 56 kg (124.0lbs) |
| 3yo C & G | 56 kg (124.0lbs) | 54 kg (119.0lbs) |
| 3yo F | 54 kg (119.0lbs) | 52 kg (115.0lbs) |
Prize Money
| | JPY | USD | GBP | EUR | AUD | HKD |
| --- | --- | --- | --- | --- | --- | --- |
| Winner | 500,000,000 | 3,816,794 | 3,164,557 | 3,571,429 | 5,617,978 | 31,250,000 |
| 2nd | 200,000,000 | 1,526,718 | 1,265,823 | 1,428,571 | 2,247,191 | 12,500,000 |
| 3rd | 130,000,000 | 992,366 | 822,785 | 928,571 | 1,460,674 | 8,125,000 |
| 4th | 75,000,000 | 572,519 | 474,684 | 535,714 | 842,697 | 4,687,500 |
| 5th | 50,000,000 | 381,679 | 316,456 | 357,143 | 561,798 | 3,125,000 |
| 6th | 40,000,000 | 305,344 | 253,165 | 285,714 | 449,438 | 2,500,000 |
| 7th | 35,000,000 | 267,176 | 221,519 | 250,000 | 393,258 | 2,187,500 |
| 8th | 30,000,000 | 229,008 | 189,873 | 214,286 | 337,079 | 1,875,000 |
| 9th | 15,000,000 | 114,504 | 94,937 | 107,143 | 168,539 | 937,500 |
| 10th | 10,000,000 | 76,336 | 63,291 | 71,429 | 112,360 | 625,000 |
| Total | 1,085,000,000 | 8,282,443 | 6,867,089 | 7,750,000 | 12,191,011 | 67,812,500 |
1USD=131JPY, 1GBP=158JPY, 1EUR=140JPY, 1AUD=89JPY, 1HKD=16JPY
Approx. figures per exchange rates as at December 2022.

Bonus System

For the winners of races below in 2023



Japan Cup 2023



Bonus


H. E. Tancred Stakes (AUS)
Dubai Sheema Classic (UAE)
The Derby (UK)
Manhattan Stakes (USA)
Prix du Jockey Club (FR)
Prince of Wales's Stakes (UK)
The Irish Derby (IRE)
Eclipse Stakes (UK)
Grand Prix de Saint-Cloud (FR)
Grand Prix de Paris (FR)
King George VI & Queen Elizabeth Stakes (UK)
Arlington Million (USA)
International Stakes (UK)
Sword Dancer Stakes (USA)
Irish Champion Stakes (IRE)
Grosser Preis von Baden (GER)
Joe Hirsch Turf Classic (USA)
Prix de l'Arc de Triomphe (FR)
Champion Stakes (UK)
Caulfield Cup (AUS)
Canadian International (CAN)
Cox Plate (AUS)
Breeders' Cup Turf (USA)
Melbourne Cup (AUS)
will be
awarded
3,000,000 USD
1,200,000 USD
750,000 USD
200,000 USD
For other invitational runners
100,000 USD
The winners of the races designated for the aforementioned bonus system which are held after the closing date of the nomination and those horses deemed equivalent may be considered by the JRA Selection Committee as nominated horses.
Incentives
For invited overseas horses for the Japan Cup, the JRA will provide the following:
1. Air transportation between Japan and the point of embarkation / disembarkation for the horse and two attendants (economy class).
2. Return business class air tickets for Owner, Trainer, Jockey, and their spouse / partner (Not transferable).
3. Five nights accommodation (one room) for Owner, Trainer, and Jockey at JRA Official Hotel.
On the weekend of the Japan Cup, there are several races at Tokyo Racecourse in which a stablemate of the Japan Cup runner can run.The details are to be announced.
Tokyo Racecourse
Japan Cup Raceday Instruction Video

Circumference
2,083.1m
Width
31 - 41m
Homestretch (final turn to finish)
525m
2,400m (T) Record Time as of October 2021:
Almond Eye (25 November 2018) 2:20.6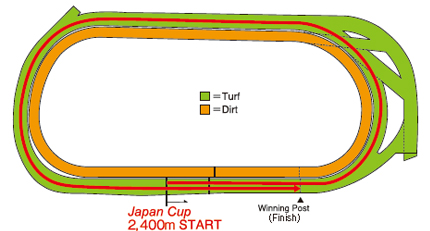 [8K / 360° interactive video] Tokyo Racecourse Turf 2400meters
This is a video of the Tokyo Racecourse 2,400-meter turf course taken with a 360-degree camera.
Recorded with ultra-high 8K resolution, the high-presence video allows youto enjoy nearly the same view as the one the jockey has from the saddle.
With the YouTube application on your smartphone, you can watch this as a 360-degree interactive video.

Click here for the details of Tokyo Racecourse
Past Winners