Breeding, Training and Sales
The establishment of the Japan Cup in 1981 resulted in the breeding industry setting a goal for producing faster and stronger horses that could hold their own worldwide. This approach was to aim at a steady improvement of the Japanese-bred horses through the introduction of superior stallions and broodmares from overseas. This program has borne fruit to a point where the winners of GI races in some of the world's leading racing nations have been produced in Japan. As a result Japanese-bred horses are increasing drawing attention on the world racing stage.
1.Breeding
BREEDING REGIONS AND NUMBER OF FARMS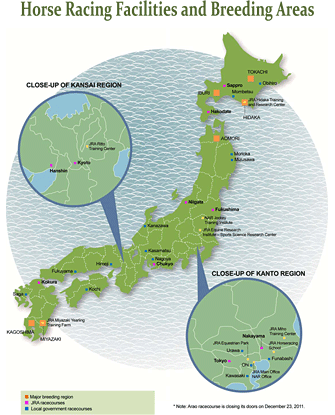 Breeding regions are located from the island of Hokkaido north to the island of Kyushu in the south. Traditional breeding areas include Tokachi, Hidaka and Iburi in Hokkaido and Aomori, Iwate, Miyagi, Fukushima, Tochigi, Chiba, Miyazaki and Kagoshima prefectures throughout the rest of Japan.
As of 2011, there were 1,017 stud farms with thoroughbred broodmares stabled. The Hidaka area of Hokkaido is home to the most at 834 (82.0%). If the Tokachi and Iburi areas are included, Hokkaido's total comes to 908, which accounts for some 89.3% of the nationwide total.
Breeding is expanding in Hokkaido, which has a cool, dry climate and plenty of space, while the industry has been shrinking in areas near tracks and in warm, humid Kyushu. The emphasis in these areas has turned to training.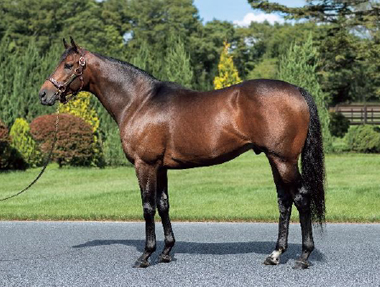 Deep Impact ©J. Fukuda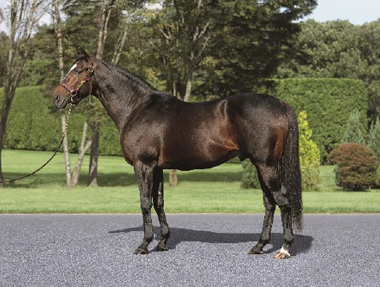 King Kamehameha ©M. Ueda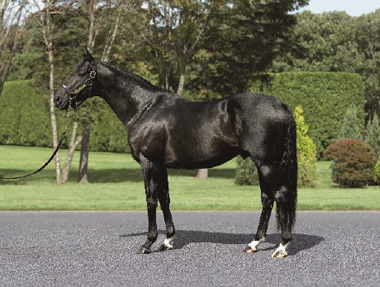 Johannesburg ©JBBA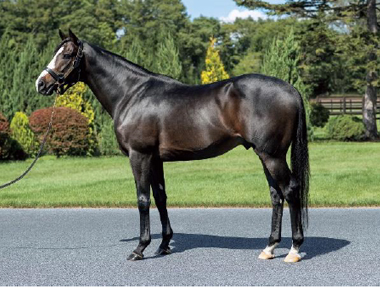 Empire Maker ©JBBA
STALLIONS
During the calendar year 2011, there were 243 thoroughbred stallions registered at stud in Japan. 95 of these were foreign-bred and 148 Japanese-bred. Approximately 86.6% of these stallions are standing in the main Hokkaido breeding region.
By covering distribution, 175 of the stallions (72.0%) covered 50 or fewer mares, 30 (12.4%) covered 51 to 100 mares, 20 (8.2%) covered from 101 to 150 mares, nine (3.7%) covered 151 to 200 mares and nine stallions (3.7%) had more than 201 coverings. The top four 2011 sires in mares covered were King Kamehameha (JPN) 266, Stay Gold (JPN) 249, Deep Impact (JPN) 229, and Heart's Cry (JPN) 221. All top four sires were bred in Japan.
The great racehorse and stallion Sunday Silence (USA), who died in August of 2002, was the leading sire until 2007 in Japan for the 13th consecutive year (since 1995).
BROODMARES
If we look at the number of broodmares in Japan, we note that the figures reached a peak of about 15,287 broodmares in 1991. These figures underwent a transition in the late 1990s, when the number of broodmares fell to 12,000 and remained around this level until 2003. The numbers began to gradually decrease from that point up until 2011, when the actual number of broodmares reached 9,379.
FOALS
Japan bred fewer than 1,000 Thoroughbreds a year through the 1940s and the 1950s. However, as the economy grew rapidly and horse racing developed, the number rose steadily to reach 10,188 foals during 1992. An annual level in the upper 8,000s for foal crop had been maintained since 1997, but a declining trend beginning in 2003 has been noted. This resulted 7,069 thoroughbred foals being registered in 2011.This is approximately same level in number that was foaled during the late 1970s. We see this as the result of a shift from quantity to quality and also the very large decline demand for foals caused by the decline in Racing by Local Governments.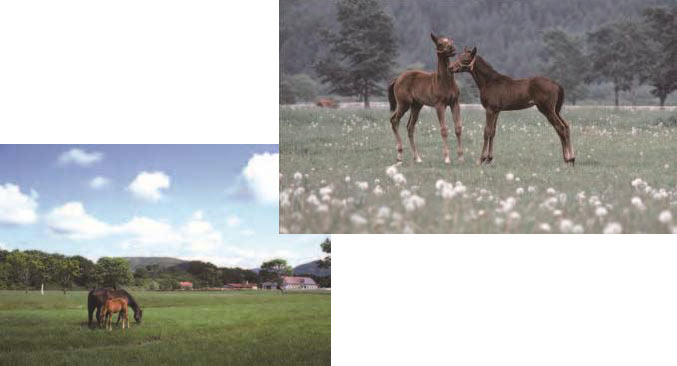 2. Breaking and Training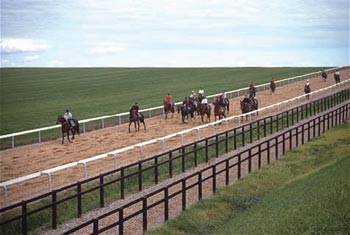 It became apparent that more efforts were needed to increase the numbers of ever better and stronger horses that were capable of competing worldwide. These highly trained horses would be channeled into JRA's two training centers, one each in eastern and western Japan. These efforts resulted in the appearance of specialized training farms in the breeding regions of Japan and near JRA training centers in the late 1980s, to accommodate the training and also to stable the rising number of horses being bred, It is now common for horses to move directly to JRA and NAR training centers and tracks following their initial training at these specialized facilities.
JRA, with the recognition of the importance of breaking and training in mind, purchased a 3,700-acre tract in Hokkaido during 1993, with the intention of creating the equivalent of "Newmarket" in Japan. This project resulted in Bloodhorse Training Center (BTC), a large-scale training facility. New private yearling training farms have also been built one after another, in the vicinity of the BTC in order to fully use its spacious and specialized training facilities.
Attention to training has now been increased twofold in breeding areas since the beginning of the BTC. This, along with improvements in techniques for the handling, breaking and training of young horses, has had a positive influence on other regions throughout the country. It has also led to the development of a training sales program for 2-Y-Os.
There have been striking improvements in the quality of Japanese racehorses in recent years and, in addition to the addition of better bloodlines, the provision of this new and better training environment is felt to have played the major role.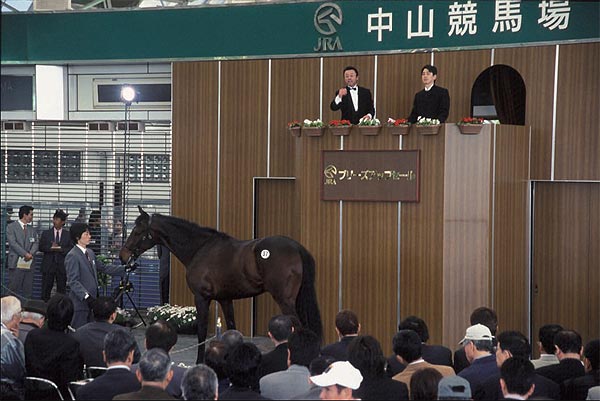 3. SALES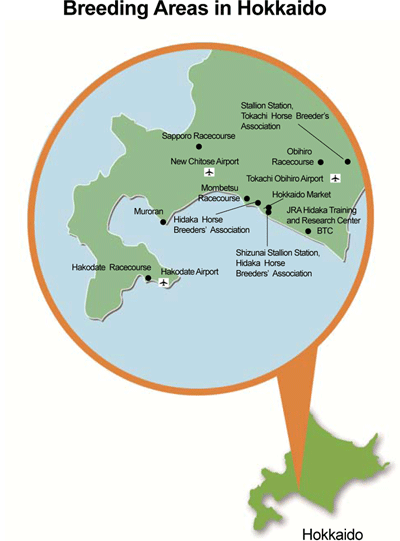 Traditionally, sales of thoroughbreds in Japan have mostly been private on-site sales between the seller (the breeder) and purchaser and prices were decided between them. Few horses were handled at public sales. There have been calls over the years for more energetic transactions through sales, which have a high degree of impartiality. The ratio of horses bred to horses offered at auction has risen from around 20% in the mid-1990s to approximately 40% at present. Most breeders are now becoming interested in livelier sales transactions. JRA is providing direct monetary sales incentives, derived from race purses, as part of promotional efforts to increase sales and sales operations in Japan.
Sales held in 2011 included two for weanlings, six for yearlings, and four for 2-Y-Os. Yearling sales held by Thoroughbred breeders' cooperatives are the most common form of auction in Japan. However, select weanling sales hosted by the Japan Race Horse Association is popular. This is largely due to the high quality and highly popular lots, which the Shadai group of Japan has actively been consigning to these sales.
There is a tendency toward forward purchases in Japan, and weanling sales are lively. Due to the influence of U.S. training sales, sales of 2-Y-Os in training have been held in Japan since 1996. Buyers from abroad now attend these auctions and overseas sales routes have begun to expand.
*

The sales dates are available on the website.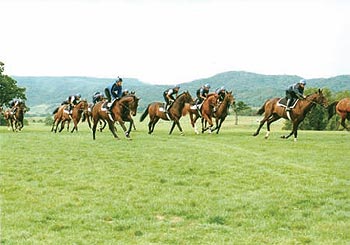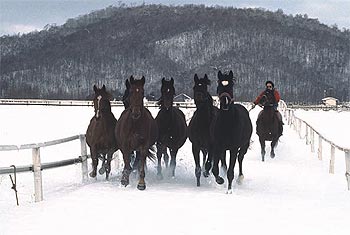 Overview of the Sales Record (2011)
Offered
Sold
Sales ratio
Offered at
auction
Average price
Median price
Overall
Colts
Fillies
Weanlings
220
161
73.2%
3.1%
¥29.00 million
¥33.15 million
¥18.63 million
¥21.00 million
Yearlings
2,685
1,352
50.4%
37.7%
¥7.33 million
¥8.38 million
¥5.74 million
¥3.68 million
2yo
284
180
63.4%
3.8%
¥6.26 million
¥7.54 million
¥4.83 million
¥4.73 million