2015 News
January 23, 2015
---
Just a Way, Epiphaneia honored as world's top two racehorses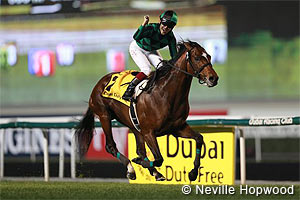 Just a Way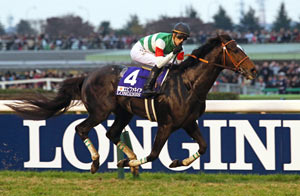 Epiphaneia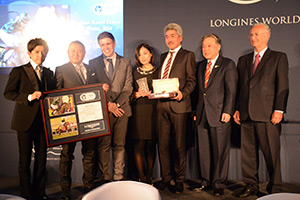 Just a Way's connections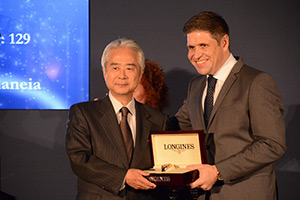 Epiphaneia's connection
The Japan-bred, Japan-trained, and Japan-based racehorses Just a Way and Epiphaneia were honored at a ceremony in London Jan. 20 after being recognized as the top two-ranking racehorses in the world. The sponsoring company Longines and the International Federation of Horseracing Authorities (IFHA) presented connections of the two horses with awards in a gala ceremony held at the hotel Claridge's.
The Longines World's Best Racehorse Rankings are established by international handicappers according to the performance of the horses in top races around the world. Just a Way led based on his stupendous win of the G1 Dubai Duty Free in March 2014.
Just a Way, by Heart's Cry and out of the Wild Again mare Sibyl, topped the board with a rating of 130. From October of 2013 to June 2014, Just a Way notched three G1 races – the Tenno Sho (Autumn), the Dubai Duty Free and the Yasuda Kinen. Just a Way has now joined his sire for stud duty at the Shadai Stallion Station in Hokkaido.
In second position with 129 points was the Symboli Kris S-sired Epiphaneia, whose wins include the 2014 Japan Cup and the 2013 Kikuka Sho (Japanese St. Leger).
Five horses tied for third place with 127 points each -- South Africa's G1 Champions Mile winner Variety Club, G1 Hong Kong Mile winner Able Friend, G1 Irish Champions Stakes winner The Grey Gatsby, European Champion Miler and European Horse of the Year Kingman and dual Derby winner Australia.
Japan-based horses also recognized as top in Japan were, among the 2-year-old category, Danon Platina with 114 points and top 2-year-old filly Shonan Adela with 110 points. Top 3-year-olds were To the World with 120 points and One and Only with 119 points. The top 3-year-old filly was Harp Star with 117 points. Behind Just a Way and Epiphaneia as top in Japan among 4-year-olds was Gold Ship with 124 points.
Just a Way's owner, Akatsuki Yamatoya received his award in London and said, "Today, in receiving this great honor, I would like to express my appreciation to the Japanese handicappers who gave such high marks to Just a Way's racing. The next time I find myself back here, I would like it to be receiving an honor for one of Just a Way's offspring."
Trainer of the top-ranked Just a Way, Naosuke Sugai, said, "I consider it a tremendous honor both for a Japanese horse to be recognized as the No. 1 horse in the world and for me to be able to be a part of this historical and spectacular achievement. This is a gift that has come as a result of the support of, firstly, the JRA, of all the fans who cheered him on, of the stable staff, and of all others who were connected with Just a Way."
Yuichi Fukunaga, who rode Just a Way for four of his six wins, including the Dubai Duty Free last March and the Tenno Sho (Autumn) in October 2013, said, "This makes me very proud. With this I have at last truly grasped how it feels to have Just a Way recognized as the top-ranking horse of the world and it is a wonderful experience. And, I will do my best together with Japan's racehorses to once again be able to stand in this place."
Fujiya Takahashi, representative for Carrot Farm, Inc., owner of Epiphaneia said, "To be here in such a place receiving such an award comes truly as a surprise for me. Three weeks ago, when I first received the news, my feeling was one where all I could say was 'Really?!' This is a joyous thing for Carrot Farm and I think that all of our members are even more overjoyed than I."
Also commenting was Masayuki Goto, president and CEO of the Japan Racing Association. Goto said, "To all those connected with Just a Way and Epiphaneia I would like to express my heartfelt congratulations as well as my respect for all their efforts. To have Japanese horses recognized as the No. 1 and No. 2 horses of Longines World Best Racehorse Rankings is, for me and all Japan's horsemen, a great honor. And, I look forward with expectations to the continued performances of Japan's horses on the fine stages of racing both in Japan and throughout the world."
Vice President and Head of International Marketing of Longines Juan-Carlos Capell commented, "Longines is proud to have presented the second ceremony of the Longines World's Best Racehorse together with the International Federation of Horseracing Authorities. This year's Longines World's Best Racehorse, Just a Way, is a fitting recipient, and his victories on the racecourse showcase performance at the highest level, a value equally shared by Longines and horseracing."
IFHA Chairman Louis Romanet said, "The Longines World's Best Racehorse Rankings are the global standard that the international racing community turns to when assessing performance. The Longines World's Best Racehorse Rankings Committee skillfully debate and decide on ratings. It's fitting that their hard work and the accomplishments of the top racehorses are on display at the Longines World's Best Racehorse Ceremony."
* Please visit the following websites for more information.
International Federation of Horseracing Authorities (IFHA)
Longines World's Best Racehorse Rankings
Press Release
Longines World's Best Racehorse Rankings 2014
JPN Thoroughbred Rankings (2014)