Presently, horse racing in Japan is classified into two categories: racing conducted by the Japan Racing Association (JRA), and racing conducted by local governments on the prefectural and municipal level. JRA racing provides revenue to national treasury, while racing by local governments provides revenue to certain designated local governments.
Racing by local governments has a history of more than 90 years, and has developed into its present form.
European-style horse racing introduced at the end of Edo Period
It was in 1861, towards the end of the era of the Tokugawa Shogunate, that Western-style horse racing was introduced into Japan. The first race was conducted in Yokohama under the auspices of the Yokohama Race Club, which was formed by a group of foreign residents of that city. This was followed by Western-style races in Tokyo and Hakodate. In 1888, with Japan Racing Club (formerly the Yokohama Race Club) having put for the first time in Japan one-dollar betting tickets on sale for club-sponsored races in Yokohama, the popularity of Western-style racing grew throughout the country.
Subsequent years witnessed both a period when betting was given tacit approval by the government, and a period when, though betting was prohibited, racing received government subsidies for the promotion of the livestock industry. With the promulgation of the Horse Racing Law in 1923 began the period of "authorized horse racing in Japan, and the approved sales of betting tickets at 11 difference clubs.
Roots of Racing by Local Governments
Racing by local governments developed mainly as a form of public entertainment, from the ceremonial horse racing which had been dedicated since ancient times to local temples and shrines at festivals around Japan.
The recorded history of racing in Japan can be traced as far back as 701 A.D., during the reign of the Emperor Mommu. As time passed, horse racing developed into such Imperial Court-sponsored forms as "Kurabe-Uma" ("match races") at Butokuden pavilion, race for religious ceremonies at Kyoto's Kamo Jinja, and other shrines, and road races sponsored by court nobles.
Although horse racing with roots in religious ceremony was officially approved by the national government in 1910 to be conducted by the Livestock Association as a form of public entertainment, the sales of betting tickets were not permitted at that time.
However, with the subsequent growth in popularity at approved horse racing, the sales of betting tickets were eventually permitted for such races. Horse racing continued to flourish in Japan, reaching a peak in the early 1940's, before the out break of World War.
Flourishing under a new postwar system
A new Horse Racing Law was promulgated after World War, in 1948.
With the dissolution of the Japan Racing Society, which had been established through the unification of a number of race clubs, and which had exclusively operated horse racing in Japan, horse racing which had thus far been officially approved was changed over to a nationally operated form of racing under the direct control of the national government. After that, in 1954, the government established JRA, a semi-governmental corporation, to conduct all aspects of horse racing. This has since developed into the horse racing which is conducted by JRA of today. On the other hand, in accordance with the new Horse Racing Law promulgated in 1948, races conducted by private equine organizations at that time were placed under the direct jurisdiction of local governments. In order words, these races were what are referred to today as Racing by Local Governments". Due to the fact that the operation of horse racing has been changed from the control of private equine organizations to that of local governments, the level of trust enjoyed by racing by local governments increased, while the sport itself has developed greatly.
Establishment of NAR
With the revision of the Horse Racing Law in 1962, the National Association of Racing (NAR) was established as a statutory authority for the purpose of 1) uniformly conducting, for racing by local governments throughout Japan, such functions as the registration of race horses and owners, and licensing jockeys and trainers, thus far handled by the individual local governments; 2) promoting the fair and equitable operation of racing; and 3) utilizing part of the earnings from horse racing for the promotion of the livestock industry.
The operation of racing by local governments has been unified, and its foundation made more firm through the establishment of NAR. NAR is the racing authority for racing by local governments in Japan.
There are 14 local governments which conduct horse racing, including two prefectual and three municipal governments, and nine joined-organizations made up of their agencies.
The administrative regions in Japan are divided into 47 prefectures, 12 of which contain 15 racecourses where racing is conducted by local governments. JRA racing is usually conducted at two of these racecourses, and local governments rent these courses and facilities from JRA. And since there are 10 JRA racecourses, there are a total of 25 racecourses in Japan.
*

The National Association of Racing (NAR)
Races and Racecourses
Details of how races are conducted
A total of approximately 14,800 individual races are conducted by 14 local governments at 15 racecourses for 1,280 days each year.
Race meeting in small and medium-sized towns are scheduled mainly on weekends, while those in large cities of Tokyo and Kansai areas are usually scheduled on weekdays, in order to best cooperate with JRA.
Although racecourses in Hokkaido and Tohoku area, which are in the northern regions of Japan, are closed during the winter due to heavy snowfall, races are conducted all year around at racecourses throughout the rest of the country.
Racecourses and Local governments
Prefecture
Racecourse
Local Government (Racing organizer)
Hokkaido
Obihiro

* Obihiro City
Mombetsu
Hokkaido
Iwate
Morioka / Mizusawa
Iwate Racing Association
Saitama
Urawa
Saitama Prefecture Urawa Racing Association
Chiba
Funabashi
Chiba Prefecture Horse Racing Cooperative Association
Tokyo
Oi
Tokyo Metropolitan Racing Association
Kanagawa
Kawasaki
Kanagawa Prefecture Kawasaki Racing Association
Ishikawa
Kanazawa
Ishikawa Prefecture / Kanazawa City
Gifu
Kasamatsu
Gifu Prefectural Racing Association
Aichi
Nagoya
Aichi Racing Association
Hyogo
Sonoda / Himeji
Hyogo Prefectural Racing Association
Kochi
Kochi
Kochi Racing Association
Saga
Saga
Saga Racing Association
Total
15 racecourses
14 local governments
*

Obihiro city is an organizer for Ban-ei Racing
A variety of racecourses
Oi racecourse in Tokyo is located in a more urbanized area than any other racecourse in Japan. Night races are conducted at Oi Racecourse from March until November. During the period that night races are conducted, the post time of the first race is 3:35 PM, with a total of approximately 10 races scheduled to be conducted by 9:00 PM.
The new grandstand it's named "L-WING", have opened in last December, 2003.
The "L-WING" have 2,582 reserved seats equipped TV Monitor of 6 inches and which have 19 Compartments equipped TV Monitor of 15 inches for searching the Odds and starters' information of every races.
"L-WING" has comfortable seats and good tasty food at many restaurants and several kinds of take out foods.
Also you are available to take your relaxed time at inside flower garden with green woods and beautiful flowers at 4th floor.
Mombetsu Racecourse opened in 1997 the smallest grandstand in Japan has capacity of only 800 people, in Hidaka region of Hokkaido. Hidaka region, which is the largest breeding center of racehorses in Japan, faces the beautiful Pacific Ocean. Due to the construction of this racecourse in this mild region which gets a relatively small amount of snowfall for Hokkaido, it has become possible to conduct races in Hokkaido until early winter.
Finish the season of the Hokkaido in November, many 2 year olds colts and fillies will move to other racecourse in every part of Japan.
Night races are conducted at four racecourses in Japan. Night races were first conducted in Japan at Oi Racecourse in 1986, after which they began at Asahikawa Racecourse in 1994, at Kawasaki Racecourse in 1995 and at Obihiro Racecourse in 2007. With groups of men and women seen taking in the races on their way home from work, horse racing enjoys the support and appreciation of people of all ages.
Types of races
Flat races consist of those by Thoroughbred horses. There are many races, included graded dirt races, with high prize money conducted at various racecourses, which attract a lot of attention.
In addition to flat races there are unique draft horse races, called Ban-ei races, which are held only in Hokkaido region. These races, which are only conducted at one racecourse in Hokkaido, are run by such heavy horses as the sturdy Perusherons, Bretons and Belgians, which pull a slighted weighing from about half a ton to one ton, along a 200-meter separated straight track with two humps. The dynamic Ban-ei races, which enjoy a large following originated as a popular game among local people in horse-breeding areas in Hokkaido and Tohoku.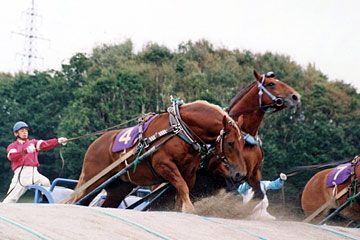 Ban-ei Race ©NAR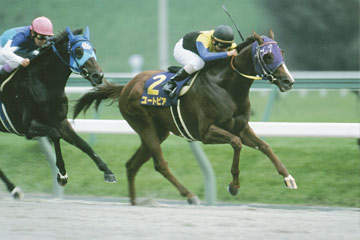 Flat Race (Day) ©NAR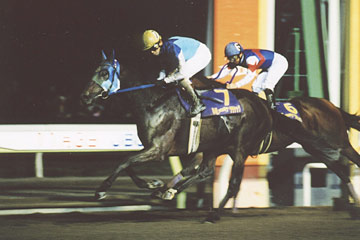 Flat Race (Night) ©NAR