Thoroughbred Database

The Japan Bloodhorse Breeders' Association (JBBA) operates an internet service which allows users to access information in English from Japan Bloodstock Information System (JBIS), its Japanese Thoroughbred database.
The information available from this service includes the following:
Detailed progeny and produce records (including cumulative race records by year and tabulated race records) and other data on stallions and broodmares imported into Japan.
Results of sales in Japan
Leading Sires List
Such information makes this service an invaluable research tool when purchasing bloodstock in Japan.
The data made available through this service is provided by the Japan Racing Association, the National Association for Racing, the Japan Association for International Racing and Stud Book and the Japan Bloodhorse Breeders' Association. The data is obtained from official Japanese sources and is updated daily to ensure users access to the newest Information.
For details on prices and how to use the service, please visit http://www.jbis.jp .
Please send any inquiries by e-mail to info@jbis.or.jp .
Stud Book Database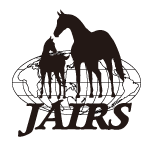 Under the new association, JRHR and JAIR will continue to conduct its respective current duties, but with further operational efficiency. JAIRS will look to expand and enrich its business line more than ever before, in hopes of contributing to the development of horseracing around the world.
Japan Association for International Racing and Stud Book (JAIRS) has officially started Japanese Stud Book Database service. Through this service you can access a lot of information on thoroughbred (such as breeding record, imported / exported horses, pedigree, etc.), and approximately 700 thousand data is included. Differently from the stud book publication, data is updated everyday, so you can access the latest information of the horse you like to check.
Japanese Stud Book Database on the Internet
http://www.studbook.jp/en/
1.

Statistics

2.

Broodmare's Breeding Record

3.

Registered Foals by Sire

4.

Imported / Exported Horses

5.

Stallions Standing

6.

Broodmares / Stallions by Sire
For the details, please click