JRA Initiatives to Promote Equine Culture
Introduction
As well as organizing JRA racing, the Japan Racing Association also undertakes the following initiatives to disseminate and develop equine culture. The aim in doing so is to foster understanding of horseracing and horses among the general public and to ensure the healthy development of JRA racing.
1. Initiatives to disseminate and promote horseriding and equestrianism
1.

To promote understanding of horses and create more opportunities for contact with horses, we hold various equestrian events including "horseriding experience" and "carriage rides" at racecourses and other venues across the country. Besides these, Equestrian Park employees take horses to racecourses, where they offer various "equestrian attractions".
At the Miho and Ritto Training Centers, the Training Farm, and other sites besides racecourses, we hold various equestrian events on special days such as "Hippophile Day" and "Horse Familiarity Day".

2.

At our various sites around the country, we give horseriding instruction to youth sports clubs and other groups organized by children of all ages who love horseriding. By so doing, we endeavor to expand the base of the horseriding population.
In fact, some former members of youth sports clubs have gone on to be active as JRA jockeys and equestrian competitors, thus contributing to an increased supply of participants in the fields of racing and equestrianism.

3.

To promote equestrianism in Japan, we hold sporting tournaments such as the "JRA Horse Show" and "JRA Dressage Tournament" at the Equestrian Park. At other JRA sites, meanwhile, we hold various equestrian tournaments on a regular basis, and provide opportunities for participants to display the results of daily practice and acquired skills. We also cooperate in providing facilities at our sites all over Japan, as venues for equestrian tournaments held by the Japan Equestrian Federation and other equestrianism bodies. As a result, the number of horseriding clubs grew from 456 in 1989 to 899 in 2008, and the horseriding population from 34,815 in 1990 to 70,988 in 2010, each increasing about two-fold.
A carriage ride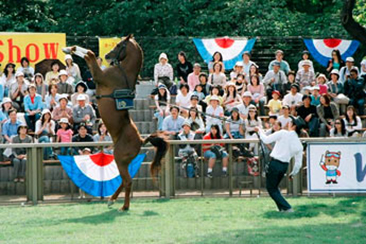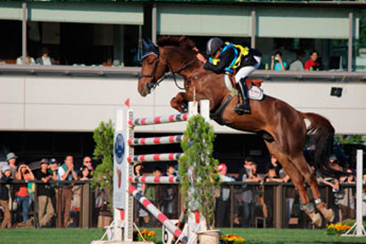 JRA Horse Show
Andalucian Horse Show
4.

At the Equestrian Park and other JRA sites around the country, many of our employees are applying themselves daily to the study of equestrianism. Many of these become highly-skilled staff through training and/or tournament experience in Europe and other countries where equestrian sports thrive and technical levels are high.
To harness the skills acquired in this way and broadly improve horseriding skills and knowledge, we hold training courses for senior high school and university horseriding clubs, private horseriding clubs and others, in which we give broad-ranging technical instruction.
2. Initiatives for operating the Equine Museum of Japan, the JRA Racing Museum and other facilities
(1) Equine Museum of Japan
In 1977, the JRA established the Equine Museum of Japan inside Negishi Horse Racing Memorial Park, created to commemorate the arrival of western-style horse racing in Yokohama in the 1860s. The Museum, which also features a Pony Center, is operated by the Equine Cultural Affairs Foundation of Japan. In the Museum, cultural artifacts nurtured through interaction between horses and humans are gathered, researched and exhibited, divided into the fields of natural history, history, folk customs, arts, crafts and racing. As a general museum on horses, the facility houses some 15,000 items. Of these, 923 are pictorial artworks on the theme of horses, including the Important Art Treasure Kamo Kurabeuma Zu Byobu (folding screen) by Morikage Kusumi and the Umazukushi series of ukiyoe prints by Hokusai Katsushika (from the former Goncourt collection). Representing western art are watercolors by Ferdinand Victor Eugène Delacroix, lithographs by Henri de Toulouse-Lautrec, James Ward (Directory of Famous Horses), Èdouard Manet, Marc Chagall, Pablo Picasso' s Chevaux de Minuit (Midnight Horses) series and others, and bronze horse sculptures by Hilaire Germain Edgar de Gas and Isidore Jules Bonheur. Craft works comprise 173 items of Japanese horse gear including the Important Cultural Property Choryo Zu Chinkin Gura (saddle), 181 tosogu sword fittings and inro miniature cases from the Nakagawa Collection, and 120 horse-themed netsuke ornaments from the Sano Collection. Also among the Museum' s holdings is the Nakagawa Collection of 338 coins engraved with figures of horses and jockeys. As special exhibitions and themed exhibitions held so far, art exhibitions include "Art Medals and Coins of the British Museum", a Western Horse Print Exhibition, and an "Exhibition of Western Armour" from the Kunsthistorisches Museum, Vienna. Exhibitions in the field of contemporary art have included the "Kentauros Exhibition" by the Bulgarian sculptor Vezhdi Rashidov and the "White Horse Series Exhibition" by Kaii Higashiyama.
The Pony Center is an outdoor exhibition space belonging to the Equine Museum of Japan. Here, thoroughbreds, ponies, native Japanese breeds and other actual horse breeds are reared. Visitors can enjoy the scenery in which those horses live, and, through contact with horses provided by horseriding experience, can even learn about horses' breathing and body temperature. The materials housed in the Museum are evidence of a close relationship between humans and horses as partners through the epochs. We would like to use our various exhibitions to convey the role and attraction of horses to future generations.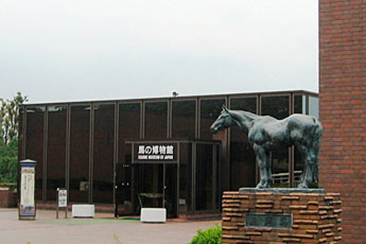 Exterior of the Equine Museum of Japan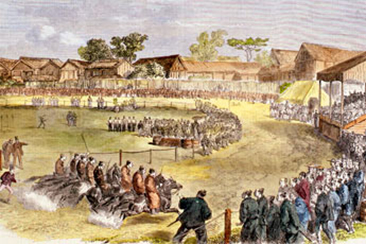 Samurai invitation race (from the Illustrated London News)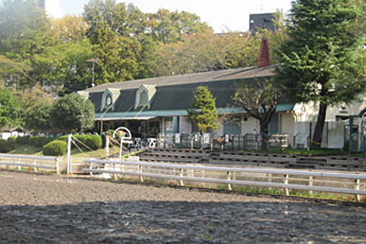 Exterior of the Pony Center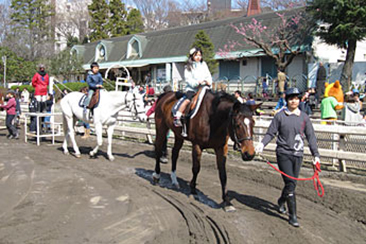 Trial rides on horses
(2) JRA Racing Museum
The JRA Racing Museum was opened inside Tokyo Racecourse in 1991. Operated by the Equine Cultural Affairs Foundation of Japan, the Museum' s aim is to introduce racing through its cultural aspects and to enhance public knowledge and understanding of horses through racing.
The Museum includes a "Memorial Hall" with displays on Hall-of-Fame horses and horsemen, three Permanent Exhibition Rooms, participatory display facilities, a Gallery and Special Exhibition Room for themed exhibitions, the "Circle Vision" audiovisual hall where video footage is projected in a panoramic 9-screen multi-image display, and an Entrance Hall.
1.

The Memorial Hall, a veritable "shrine of racing", is an exhibition space designed to honor horses and people who have contributed to the growth of the JRA.

2.

The Permanent Exhibition Rooms tell the story of horseracing, with its history of bonds between humans and horses over thousands of years.

3.

The participatory display facilities include a life-size starting gate where visitors can experience the sensations felt by starters and jockeys, "Riding Vision" in which visitors sit astride a robot horse and experience a simulated ride on an actual track at Tokyo Racecourse, and the game-style "Racing Simulation" in which two types of pad are used to win at horseriding.

4.

The Gallery and Special Exhibition Room feature displays of photographs and paintings, but also host special exhibitions on various racing-related themes during the spring and autumn meetings at Tokyo Racecourse. These are of great interest to many racing fans.

5.

In the Audiovisual Hall, scenes of horses in action and races can be enjoyed in large-screen visuals. These include stunning video images expanded over massive screens and the world' s first 3D panoramic video display.

6.

Displays in the Entrance Hall highlight big race wins, new nominations for the Hall of Fame horses, and other topical themes of interest to visitors at any particular time.
The JRA Racing Museum also houses a wide range of artifact collections related to racing. These include winners' prizes and lei (drapes), past betting slips and admission tickets, paintings, sculptures and other artworks on the theme of racing and racehorses, PR posters, posters depicting famous horses and jockeys, race programs from countries around the world including Japan, and various merchandise including some for display purposes only.
Besides these, miscellaneous items connected with G1 races held at Tokyo Racecourse - specifically, the Tokyo Yushun (Japanese Derby) and the Japan Cup - have also been collected thanks to kind donations from winning owners, trainers and jockeys. These include racing colors, jockeys' caps, whips and horseshoes used in an actual race win.
As well as collecting and housing these items with the aim of preserving them for posterity, we would like to use the various displays to introduce racing through its cultural aspects and endeavor to have its attraction known by more people.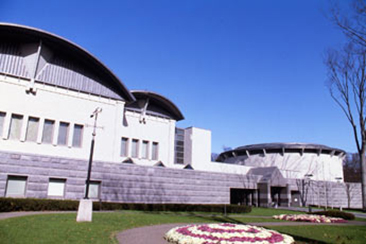 Exterior of JRA Racing Museum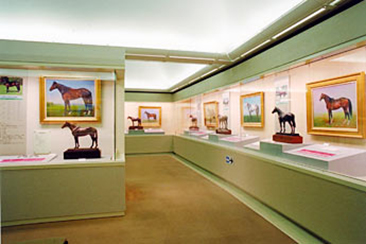 Memorial Hall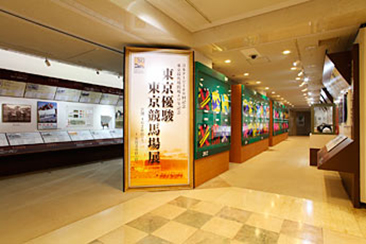 Scene from a Gallery exhibition
(3) Racing Promotion Facility "Gate J."
"Gate J."is a racing promotion facility that provides information on horses and racing culture, with the aim of spreading knowledge of these among the general public. There are two of these facilities, one in Shimbashi (Tokyo) and the other in Osaka (Umeda), allowing concentrated information on equine culture to be gathered in major urban centers.
To spread knowledge of racing and equine culture among the general public, we select materials from a variety of fields, and regularly exhibit panel displays using photographs, illustrations and others. Gate J. is a place where the equine world can be accessed closely and enjoyed by anyone with an interest in horses, from complete beginners to race-going veterans.
The "J" of Gate J. is meant to stand for words like joyful, join, jockey and jump, while "Gate" has connotations of a portal or gateway, the starting gate used at racecourses, and so on.
As well as information on horses and racing, Gate J. also offers a number of other resources. One of them is "J. NET", where real-time racing information and past data can be searched and traditional equestrian events all over Japan can be seen. Another is "J. Library", a reference space where around 3,000 documents, including novels and essays on horses and racing, specialist racing magazines useful for gathering information, and many others can be perused. "J. VISION", meanwhile, shows footage of JRA races and others broadcast by the Green Channel, as well as material housed by the Equine Museum of Japan.
The "J. Collection" shop has a full selection of Gate J. original goods and various other merchandise connected with racing.
Finally, "J. STUDIO" is an event space where various noted guests are invited to give talks on equine culture or delve into the historical background to races. In the buildup to G1 races, various events examining the potential outcome of the race in question are also held here.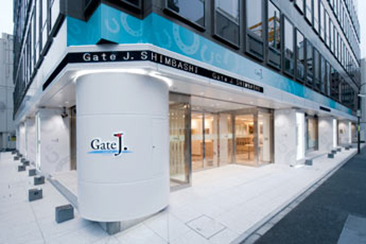 Exterior of Gate J. (Shimbashi)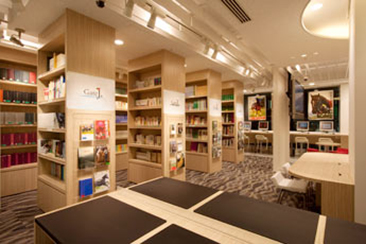 J. Library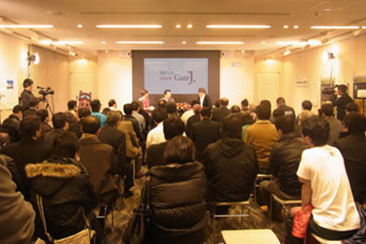 J. Studio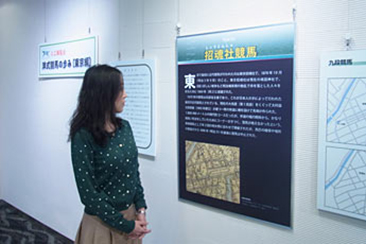 Panel Display
3. Initiatives for conferring the Equine Culture Award in the JRA Awards
In 1987, the JRA established the JRA Awards Equine Culture Award with the aim of commending and honoring individuals or organizations deemed to have made particularly meritorious contributions to the growth and promotion of equine culture, and supporting their activities. Fields eligible for these awards range from literature an art to research, comment, film, photography, manga, critique and other works contributing to the promotion of equine culture.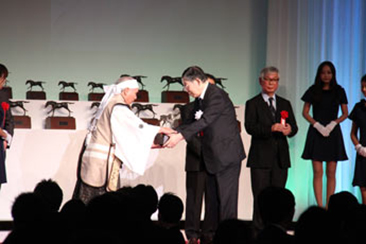 Scene at the JRA Awards Equine Culture Award ceremony (Soma Nomaoi Organizing Committee)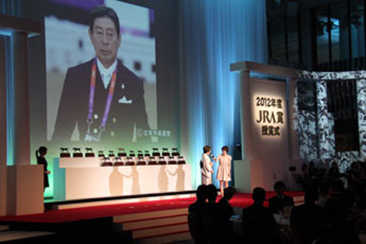 Scene at the JRA Awards Equine Culture Award ceremony (Mr Hiroshi Hoketsu)
4. Initiatives to preserve native Japanese horse breeds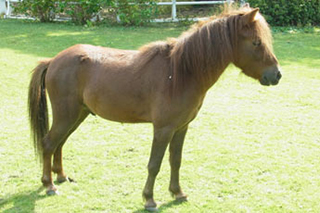 Noma Uma (Designated Natural Monument of Imabari, Ehime Prefecture)
Long ago, many parts of Japan were home to unique native horse breeds, but as time moved on, many of these have died out.
Today, there are only eight officially recognized native breeds: (1) the Hokkaido Washu or Dosanko (Hokkaido and Aomori Prefecture; Designated Cultural Heritage of Hokkaido), (2) Kisouma (Designated Natural Monument of Nagano Prefecture), (3) Noma Uma (Designated Natural Monument of Imabari, Ehime Prefecture), (4) Taishuba (Nagasaki Prefecture), (5) Misaki Uma (Miyazaki Prefecture; Natural Monument designated by the National Government), (6) Tokara Uma (Designated Natural Monument of Kagoshima Prefecture), (7) Miyako Uma (Designated Natural Monument of Okinawa Prefecture), and (8) Yonaguni Uma (Designated Natural Monument of Yonaguni-cho, Okinawa). We provide support for maintaining and increasing populations of native breeds with high cultural value, particularly those threatened with extinction and designated as cultural properties. We are also engaged in activities such as holding rearing displays of native breeds at racecourses and elsewhere, with the aim of enhancing understanding of native breeds among the general public.
*

"Natural monuments" are flora, fauna and minerals with a high scientific value, and the localities where they are found, which are designated for protection and preservation. Besides the Act on Protection of Cultural Properties, some of these are governed by the ordinances of local government authorities.
5. Initiatives to preserve traditional horse-related events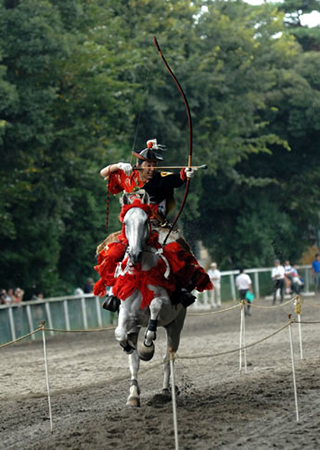 Yabusame (Kamakura, Kanagawa Prefecture)
Horses have lived side-by-side with humans as familiar friends since ancient times. Within this relationship, many horses play an active role in festivals held from time to time. By taking steps to preserve and promote traditional horse-themed events and festivals passed down since olden days, the JRA not only spreads equine culture and enhances public understanding of it, but also protects valuable cultural heritage.
These traditional events include many ceremonies and festivals such as Yabusame and Kasagake horseback archery (Kamakura, Kanagawa Prefecture), the Chagu Chagu Umako horse parade (Morioka, Iwate Prefecture), Hachinohe Kiba Dakyu polo (Hachinohe, Aomori Prefecture), the Nikko Toshogu Sennin Musha Gyoretsu samurai procession (Nikko, Tochigi Prefecture), and the Aoi Matsuri hollyhock festival (Kyoto). By supporting these events, we protect valuable cultural heritage.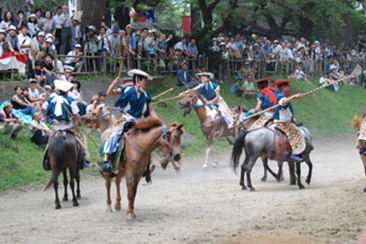 Hachinohe Kiba Dakyu polo (Hachinohe, Aomori Prefecture)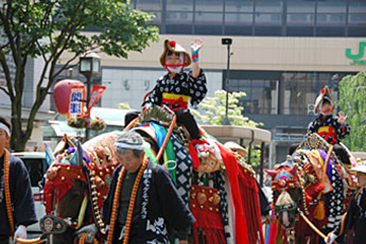 Chagu Chagu Umako (Morioka, Iwate Prefecture)