2022 News
February 28, 2022
---
Japan cleans up in Riyadh with incredible four wins on Saudi Cup Day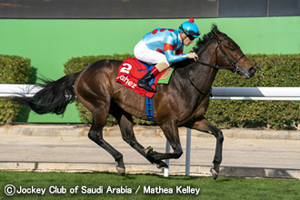 Authority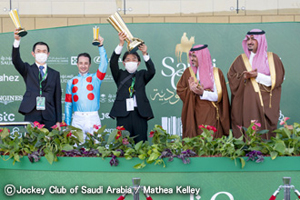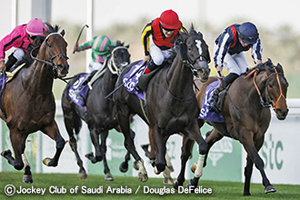 Songline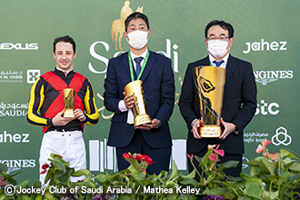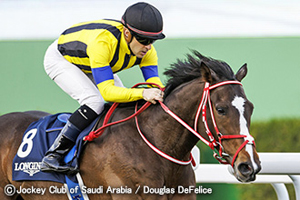 Stay Foolish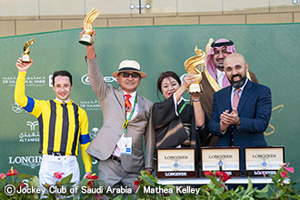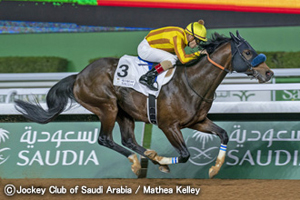 Dancing Prince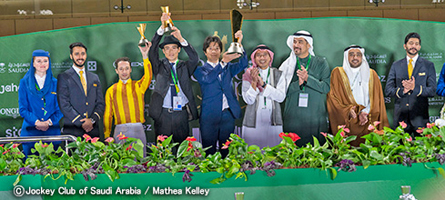 On Saturday, Feb. 26, Riyadh's King Abdulaziz Racecourse hosted Saudi Arabia's biggest racing event - the Jockey Club of Saudi Arabia-organized 2022 Saudi Cup Day. Its headliner, recently promoted to Grade 1 status, boasts $20 million in prize money and makes it the world's richest race.
A total of six international races open to overseas-based Thoroughbreds attracted 12 runners from Japan, with entries in each of the six. The numbers alone indicated Japan's horsemen believed they had a good shot at a share of the pot. By the end of the day, with victory in four races, their belief had been confirmed and Japan's domination secured.
The curtain went up on the big day with the Neom Turf Cup, a Grade 3 over 2,100 meters of turf and Japan immediately struck an authoritative note. Christophe Lemiare took advantage of an inside gate and a sharp jump for an inside run that brought 5-year-old Authority home a winner. A son of Triple Crown winner Orfevre and Japan's sole runner in the full field of 14, Authority was followed 1 1/4 lengths later by the German-bred locally trained Kaspar, under Ricardo Ferreira.  Authority's winning time was 2 minutes 6.72 seconds.
"I had the best horse in the race and set the pace the way I wanted it, without any pressure," said Lemaire. "Then he used his long acceleration. He was very comfortable, and at the end, his strength made the difference."
Lemaire said Authority, second to Triple Crown champ Contrail in last year's Japan Cup, found the firm ground to his liking, enough that he was able to notch his career first Grade 1 in five tries.
Miho-based trainer Tetsuya Kimura said, "It's my first time with a runner outside Japan since I've been licensed, and to win a race like this is unbelievable and the highlight of my career. "It was a great ride from Lemaire."
Kimura said that after he seeing the Japan Cup performance, he and owners Silk Racing Co. Ltd. started considering a trip to Riyadh. Like Tokyo, the left-handed King Abdulaziz track was attractive. Next up for Authority will be the Sheema Classic in Dubai next month.
The 1351 Turf Sprint, a Grade 3 race taking takes its name from its distance of 1,351 meters, saw Japan well represented, with three runners - Songline from the Miho stable of Toru Hayashi, Lauda Sion from the Ritto-based barn of Takashi Saito, and Entscheiden, one of three runners being fielded on the day by travel aficionado Yoshito Yahagi. Once again, it was Lemaire who rode the winner. Bringing Songline, a 4-year-old filly by Kizuna, up the ranks in a steady rally, she took the lead at the 200-meter mark and won by a neck. Cristian Demuro brought the 5-year-old Real Impact-sired Lauda Sion home in fourth place, and 7-year-old Entscheiden, by Deep Impact, only managed to keep two runners behind him at the wire in the field of 14.
Songline came off a win of the Grade 2 Fuji Stakes in late October and was second to Schnell Meister in the NHK Mile Cup in May. Running under the colors of Sunday Racing Co. Ltd., the filly improved her record to four wins from nine starts and clocked 1 minute 18 seconds.
Trainer Toru Hayashi was overjoyed, "This is the greatest moment of my career," he exclaimed, "I have been training for only 4 years and it is my first time racing a horse outside of Japan. I think I am dreaming!
"She is such a brilliant filly and the ride from Lemaire was perfect.
"Thanks also to Authority from Japan for winning the first race. That made me think we had momentum."
Of Lauda Sion, Demuro said, "He ran well. We were a bit slow at the start, but he finished well and fourth is a good position for him."
By the end of the day's third race, the Grade 3 Red Sea Turf Handicap, it was obvious Japan wasn't fooling around, despite the name of their next winner.
Lemaire was in the saddle again, as the Yahagi-trained 7-year-old Stay Foolish bested the 13 others over a demanding 3,000 meters. He did it with ease, going wire to wire, and finished with more than 4 lengths to spare. In second was Irish St. Leger winner Sonnyboyliston under Johnny Murtagh.
Yet to win a top-level race, Stay Foolish, the son of international champion Stay Gold was coming off a fifth-place finish in the December Hong Kong Vase, the race his sire captured in 2001. His biggest win yet was executed in a time of 3:06.08
"Once again I took the lead and he was very comfortable in front," said Lemaire. "He was quickly away so we didn't stop.
"We don't have many long-distance races in Japan and 2000-2,200 meters is a little bit short for him, but today he dominated the race. Running free like this he was unbeatable.
The globetrotting Yahagi has had many a win, but he claimed the win had brought him "one of my happiest moments."
"I thought he could win, absolutely," said the 60-year-old Yahagi. "I knew he was doing well in training so we had a bit of confidence before the race. He is a one-paced sort of horse so this distance helped him."
Yahagi indicated he may target the Melbourne Cup this year.
Next up in the internationals was the day's sixth race, the Saudi Derby, a Grade 3 dirt mile Japanese runners have won for the past two years.
Full Flat and Yutaka Take captured the inaugural race in 2020 and Keita Tosaki piloted Pink Kamehameha to the win in 2021. This year, Japan just missed the hat-trick but still made second and third in a thrilling finish that looked for a moment that Japan would win it again. The Koshiro Take-trained Sekifu, under Cristian Demuro, gained swiftly up the outside, but ran out of ground just before he could overtake the Bob Baffert-trained American runner Pinehurst, who topped him by half a length under Frenchman Flavien Prat. Lemaire got a breather from his dizzying performances following Sekifu home in third place aboard the Yukio Inagaki-trained Consigliere, a 3-year-old colt by Drefong that went to Riyadh with only two starts (both wins) behind him.
"He was a little bit lazy at the start," said Demuro of Sekifu. "He doesn't like too much kickback, so in the corner I went a bit outside where he doesn't get too much. In the stretch, I pulled out to avoid the kickback and he tried hard and showed a good turn of foot, but Bob Baffert's horse started again."
Lemaire said, "I was with the winner, I let him pass coming to the first corner to give my horse a chance, and then we challenged the winner until the end."
In the Riyadh Dirt Sprint, a Grade 3 over 6 furlongs, Lemaire was back stronger than ever, capturing his fourth win of the day with victory aboard Dancing Prince, a 6-year-old trained by the Miho-based Keisuke Miyata. Japan's two other runners in the field of 13 made the board with a third place by Heart's Cry-sired Chain of Love under Ryusei Sakai and a fourth by last year's winner, the 7-year-old Copano Kicking, an American-bred by Spring At Last.
Dancing Prince quickly took the lead with rock-bottom early fractions and then surged again to win by nearly 6 lengths over locally trained Good Effort.
Dancing Prince, a Shadai Farm-bred horse by Pas De Trois racing abroad for the first time, improved his record to nine wins from 13 starts.
Takuhito Sawae, assistant to trainer Miyata, said, "This is only our third season training, so this is huge. This is our best moment."
Christophe Lemaire was uncharacteristically at a loss for words. "This is unbelievable. I have been in Japan for 2 years with the restrictions and no travel, so I was fresh tonight! My horses have been just too good tonight. I don't know what to say."
By the end of the day and the day's highlight race, it was time the host country saved some face. And though Japan's two Saudi Cup hopefuls gave it their best, there was no stopping Emblem Road, whose unexpected show of power caused the stands to erupt with joy as the white-and-blue silks of Prince Saud bin Salman Abdulaziz passed Bob Baffert's Country Grammar with 50 meters to go and clinched the win of the 1,800-meter dirt Grade 1.
Steve Asmussen's Midnight Bourbon made it home in third. Marche Lorraine, who scored one of two historical wins for Yoshito Yahagi at the 2021 Breeders Cup, and last year's Grade 1 Champions Cup winner T O Keynes were no match for the dirt specialists. Marche Lorraine finished a far sixth under Christophe Soumillon. T O Keynes, with Kohei Matsuyama up, crossed the line nearly 2 lengths behind Marche Lorraine in eighth place.
Emblem Road, an American-bred 4-year-old by Quality Road, and ridden by Wigberto Ramos, clocked 1 minute 50.52 seconds over fast ground. The bay colt is trained by Mitab Almulawah for owner Prince Saud Bin Salman Abdulaziz.
Of Marche Lorraine, Soumillon said, "She jumped out very well, but unfortunately, seven or eight horses inside kept their positions, so I couldn't sit close to the pace.
"Just before the turn I saw a nice gap to go inside and was very confident when I turned the corner. She was travelling easily and I saw two of the favorites stopped completely in the turn, so I thought she was ready to go.
"I think the distance was a little short for her, but she proved she was a great mare and did a great job."
Daisuke Takayanagi, trainer of T O Keynes, said, "He had no problem at the break, which I'd been worried about. But the others were fast and he slipped back. It was a level of competition he hadn't experienced before and he wasn't able to give it his best." 
Authority won the Neom Turf Cup (G3).
Songline won the 1351 Turf Sprint (G3).
Lauda Sion finished 4th in the 1351 Turf Sprint (G3).
Entscheiden finished 12th in the 1351 Turf Sprint (G3).
Stay Foolish won the Red Sea Turf Handicap (G3).
Sekifu finished 2nd in the Saudi Derby (G3).
Consigliere finished 3rd in the Saudi Derby (G3).
Dancing Prince won the Riyadh Dirt Sprint (G3).
Chain of Love finished 3rd in the Riyadh Dirt Sprint (G3).
Copano Kicking finished 4th in the Riyadh Dirt Sprint (G3).
Marche Lorraine finished 6th in the Saudi Cup (G1).
T O Keynes finished 8th in the Saudi Cup (G1).
Official Results

Australia's Jones tops Int'l Jockeys Challenge
The International Jockeys Challenge, a four-race competition with seven male jockeys competing alongside seven international female jockeys, was held the day previous to the Saudi Cup.
Caitlin Jones, an Australian rider recently riding in Dubai, scored a total 25 points from her second in the series' first leg and a win in the third, which put her at the top for the overall win. Finishing a close second 3 points behind Jones was the American-based Joel Rosario. Australian Glen Boss, who came out of retirement to ride "one last race," scooped the second leg for 17 points to finish third overall. The other win was notched by last year's challenge champion Irishman Shane Foley.
Japan's sole representative was Christophe Lemaire, whose two fourth-place finishes and a 9th and 12th, gave him a meager eight points and 10th place.
It was the second time in the challenge's 3-year history that the winner's trophy went to a female rider. Accompanying Caitlin's trophy was a first-place prize of $30,000 and 15 percent of the race prize money. Second and third place were worth $20,000 and $10,000, respectively.
Please visit the following websites for more information.
Saudi Cup
Equestrian Club of Riyadh