2023 News
February 27, 2023
---
Panthalassa lands Saudi Cup amid Japan hat-trick on Saudi Cup day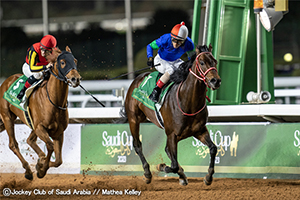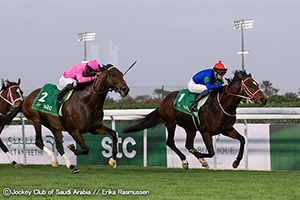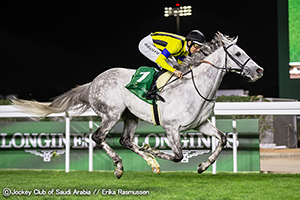 On Saturday, Feb. 25, in what was a massive Japanese onslaught on King Abdulaziz Racecourse in Riyadh, Japan's Panthalassa landed the jewel of Saudi Arabian racing, the USD20 million Saudi Cup.
It was the second-biggest attack ever launched overseas by Japanese horsemen, a Saudi record 20 Japan-based horses (eight more than last year), who were taking on five of the six races open to Thoroughbreds. After landing two races in earlier action in the day, Japan's remaining six horses took on the world's richest race.
In the three previous editions of the Saudi Cup, the best finish from a total of five runners from Japan was sixth place, but this year, with nearly half the field, Japan cleaned up with four finishers on the board in first, third, fourth, and fifth place.
It was trainer Yoshito Yahagi's Panthalassa who reigned supreme in a wire-to-wire victory under Japanese rider Yutaka Yoshida, riding for his first time in Riyadh. A sweep of the top spots was stymied by the U.S.-based Country Grammer, who rallied up the outside under Frankie Dettori and nearly made it to the top.
The highly successful, globe-trotting trainer Yahagi was incredulous. "I can't believe that something like this can happen in this world. I am so proud of the horse and the stable staff. The race was simple, take the lead. But I think his excellent break was a big factor in his win."
"Yutaka Yoshida's start was fabulous. It was perfect," Yahagi added. "When we drew the No. 1 gate, I knew that Panthalassa was going to have the advantage and that's how it turned out. I still can't believe that we've gotten these results. Really, I am most grateful to the horse and staff."
Yoshida also saw the start as a major factor in the win, but not the only one. "He doesn't start well sometimes, but today he was concentrating and was well away," he said of Panthalassa. "The horses behind him were not too close and the pace wasn't that fast, which also helped. Of course, I knew they were coming up fast in the stretch, but I believed in his ability to reach down and find more. This is a day I will never forget."
Though the 6-year-old son of sprint champion Lord Kanaloa has yet to land a big race back home, the Saudi Cup windfall more than avenged his loss in last year's Grade 1 Tenno Sho (Autumn) at Tokyo and the Hong Kong Cup at Sha Tin in December. Though not the most consistent runner, Panthalassa's performance in the Tenno Sho (Autumn) was clearly indicative of the tenaciousness and strength he could bring to the table when at his best.
Panthalassa's win of the Saudi Cup was his first victory since capturing last year's Dubai Turf at Meydan six starts ago. Owned by Hiroo Race Co. Ltd., Panthalassa clocked 1 minute, 50.8 seconds over the 1,800 meters of fast dirt.

Also going home with a big bite of the Saudi Cup bounty was the Noriyuki Hori-trained Cafe Pharoah in third place under Joao Moreira, half a length behind Country Grammer. Christophe Lemaire piloted Geoglyph to a fourth-place finish a head later, followed by Crown Pride under Damian Lane in fifth place. Ryan Moore was on Jun Light Bolt in seventh and Vin de Garde was last of the Japanese runners in 11th place under Mickael Barzalona.
Cafe Pharoah, a U.S.-bred son of American Pharoah, is a two-time JRA Grade 1 winner, with successive wins of the February Stakes in 2021 and '22, and was racing for the first time in nearly five months. "It was tight getting into position, but we were able to find a good path after that," said Moreira. "He really gave it his all to the end and I think it was a very good run."
Lemaire, who rode the 2022 Satsuki Sho (Japanese 2000 Guineas) champion Geoglyph said that after an excellent start and getting into position he'd marked Panthalassa the whole way. "We both made our move at the same time and he really tried hard, but he did start to tire over the last 50 meters. It was his first time on dirt and he reached down for everything he had, which helped him get the good results he did."
Also claiming victories for Japan were Bathrat Leon in the 1351 Turf Sprint, the No. 4 race on the Feb. 25 card, and Silver Sonic, who was the second Japan-based horse in a row to win the next race up, the Red Sea Turf Handicap.
Bathrat Leon, a 5-year-old by Kizuna, is also trained by Yohito Yahagi. A two-time Grade 2 winner Bathrat Leon reaped USD900,000 in bringing Japan a successive win of the 1351 Turf Sprint, a Grade 3 turf race run over the distance of its name.
He was ridden by Ryusei Sakai, less than a week off a win aboard Lemon Pop in the Grade 1 February Stakes back home. "I am so happy to have landed my first win in Saudi Arabia," Sakai said. "He was moving with a very nice rhythm under way and I still had a lot of horse under me the whole way down the stretch."
Of the total four runners from Japan in the 11-strong field, the Daiwa Major daughter Resistencia was next best with a fifth-place finish. Lauda Sion was ninth and the Kizuna-sired Songline managed only 10th under Christophe Lemaire, a far cry from the duo's winning performance last year.
The fifth race of the day, the Red Sea Turf Handicap, a Grade 3 turf test over 3,000 meters worth USD1.5 million for winner, went to the 7-year-old Orfevre-sired Silver Sonic, who finished 2 1/2 lengths ahead of runner-up Enemy. Trained by Yasutoshi Ikee, Silver Sonic was ridden by Damian Lane, who had guided him to a win of the Grade 2 Stayers Stakes at Nakayama last out in early December. "The competition was very high today and he did a good job winning," Lane said. "The Japanese horses are top quality and I'm glad we were able to show that."
"He's got Orfevre's blood in him and I'm glad he was able to win overseas," said Ikee, who had also trained the big chestnut champion. Orfevre won the 2011 Triple Crown and notched three more Grade 1s after that at home. He was victorious two years in a row in France's Grade 2 Prix Foy and, more amazingly, was runner-up in the 2012 and 2013 Prix de l'Arc de Triomphe.
Silver Sonic's time over the 3,000 meters of fast turf was 3 minutes, 6.46 seconds.
Japan's other runner in the Red Sea Turf Handicap was the 6-year-old Rulership-sired Echt, who finished in seventh place under Yuga Kawada.
In the Grade 3 Riyadh Dirt Sprint, Remake finished third and topped the other Japan runners. Justin was fourth, followed by Dancing Prince in fifth and Ryuno Yukina in sixth. For the 46-year-old veteran jockey Yuichi Fukunaga, this was the last mount of his riding career. Derma Sotogake finished in third place in the Grade 3 Saudi Derby, with Continuar in fifth.
Saez tops Int'l Jockey's Challenge; Japan's Kawada claims second
U.S.-based rider Luis Saez captured the International Jockey's Challenge at King Abdulaziz Racecourse on Friday, Feb. 24, with Japan's sole representative Yuga Kawada securing second place, just eight points shy of Saez's 37 total. U.K. rider Joanna Mason finished in third place, only two points short of Kawada.
The 37-year-old Kawada earned points in all but the first leg, where he finished three off the rear. With seven points each from third-place finishes in the second and third race, going into the final race saw Kawada still in the running for the overall win.

Kawada aced that race aboard the 6-year-old U.K.-bred Starcat. However, Saez, who had one previous win and a second, followed him across the line in second place, which put him over Kawada for the overall win.
Kawada expressed his disappointment, but also how he cherished the opportunity to have ridden with his personal hero Frankie Dettori. "It was an honor to be riding alongside him on such a stage, and to have competed against him is something I'll always be grateful for."
SAUDI CUP (G1, 1,800m Dirt, US$ 20 million)
- PANTHALASSA: 1st
- CAFE PHAROAH: 3rd
- GEOGLYPH; 4th
- CROWN PRIDE: 5th
- JUN LIGHT BOLT: 7th
- VIN DE GARDE: 11th
RIYADH DIRT SPRINT (G3, 1,200m Dirt, US$ 1.5 million)
- REMAKE: 3rd
- JUSTIN: 4th
- DANCING PRINCE: 5th
- RYUNO YUKINA: 6th
SAUDI DERBY (G3, 1,600m Dirt, US$ 1.5 million)
- DERMA SOTOGAKE: 3rd
- CONTINUAR: 5th
- FROM DUSK: 9th
- ECORO ARES: 12th

RED SEA TURF HANDICAP (G3, 3,000m Turf, US$ 2.5 million)
- SILVER SONIC: 1st
- ECHT: 7th
1351 TURF SPRINT (G3, 1,351m Turf, US$ 1.5 million)
- BATHRAT LEON: 1st
- RESISTENCIA: 5th
- LAUDA SION: 9th
- SONGLINE: 10th
Click here for the results

Please visit the following websites for more information.
Jockey Club of Saudi Arabia
Saudi Cup