Company Profile
| | |
| --- | --- |
| Name | Equestrian Park (JRA) |
| Location | Kamiyoga 2-1-1, Setagaya-ku, Tokyo 158-8523, Japan |
| Tel | +81-3-3429-5101 |
| Fax | +81-3-3428-2340 |
| Office hours | 9:00~17:00, Monday thru Sunday |
| Established | September 29, 1940 |
*

Equestrian Park is one of JRA's institutions.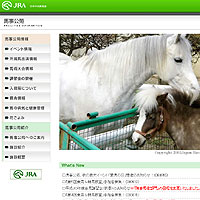 Objective/activities
In 1940, the Equestrian Park (JRA) was established to nurture horses and horsemen for equestrian training, to host equestrian competitions, and to develop further understanding of horses. Since the opening of the Horseracing School in 1982, the park was used for training and education of JRA jockeys, and today, is the mecca of equestrian arts in Japan.
Also, in 1964, the Equestrian Park received international attention as the center stage for the equestrian competition for the Tokyo Olympics.
Currently, the Equestrian Park is involved in duties to promote horseracing and equestrian culture to the mass public by providing them with opportunities to interact with horses. The park hosts the "Horse Show (JRA's show jumping competition)" every May, "Hipopophil Day" a day to introduce traditional Japanese equestrian entertainment from various areas of Japan in September, a monthly activity "Meet the Horse Day" to introduce equestrian events, among other events, all in an effort to bring horses closer to the general public. In addition, the park holds equestrian competition events almost every weekend. To further enhance equestrian culture, it also provides the stage and competition horses to other equestrian organizations for their respective events.
On the other hand, the Equestrian Park also plays an important role to serve as a ground for training horses and horsemen. The park nurtures horsemen and educators necessary to promote equestrian arts, cultivates the next generation of horsemen, and serves as a place to train horses used for various purposes to propagate equestrian culture.