Company Profile
| | |
| --- | --- |
| Name | Hidaka Training and Research Center - Equine Science Division (JRA) |
| Location | 535-13, Aza-Nishicha, Urakawa-cho, Urakawa-gun, Hokkaido 057-0171, Japan |
| Tel | +81-146-28-1211 |
| Fax | +81-146-28-2085 |
*

Hidaka Training and Research Center - Equine Science Division is one of JRA's institutions.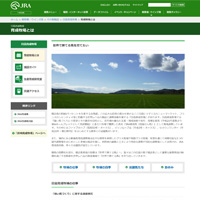 Objective/activities
The Hidaka Training and Research Center - Equine Science Division (JRA) is dedicated to "produce world-class horses" and to "strengthen the backbone of the breeding industry." To accomplish those objectives, all of the staff at the Division are committed to seeking and promoting scientifically proven technology on breeding and rearing of race horses.
To introduce a more efficient reproduction management system, the Division conducts research from covering to fertilization, implantation, maintenance of pregnancy and labor. The Division also examines various illnesses within the reproduction cycle brought to attention by the breeders.
The Division also works to establish a method for foals to cultivate basic stamina, with a robust body and high athletic ability. To accomplish that goal, the Division looks further into how grazing should be carried out on Japanese soil and also conducts research on nutrition and feed management. Also, the Division puts time into research on locomotive diseases for horses in their growth periods, which is in high demand within breeding areas.
Further, in order to find out how the training affects young horses, the Division conducts examinations by using the treadmill and various other research on locomotrium.
The results of these examinations are restored to the breeding and training farms through symposiums and training sessions at breeding areas.