Company Profile
| | |
| --- | --- |
| Name | Equine Research Institute (JRA) |
| Location | 1400-4, Shiba, Shimotsuke-shi, Tochigi 329-0412, Japan |
| Tel | +81-285-44-0090 |
| Fax | +81-285-44-5676 |
*

Equine Research Institute is one of JRA's institutions.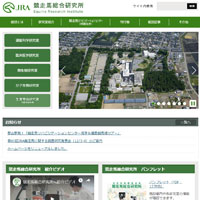 Objective/activities
The equine Research Institute was established in 1959 as an affiliated organization of the Japan Racing Association. At that time, under the name of Equine Health Laboratory, its purpose was to ensure the racehorse resources and promote the smooth operation of the horse racing. This purpose has never been changed until today. The present primary objectives are the research on the sport science, injury and infectious diseases.
Not only racehorses, the horses on the stages of breeding and rearing are also the target of the research as well. The beneficial results of the research have been many and varied, and these research results have been practically applied at both Miho and Ritto Training Centers, breeding fields and training farms.