Company Profile
| | |
| --- | --- |
| Name | Japan Horse Transport |
| Location | 6-20-11, Shimbashi, Minato-Ku, Tokyo 105-0004, Japan |
| Tel | +81-3-3437-1681 |
| Fax | +81-3-3437-1024 |
| Office hours | 9:30~17:30 |
| Established | August 16, 1947 |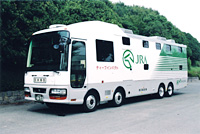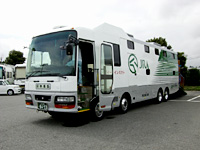 Objective/activities
Japan Horse Transport (JHT) concentrates on the transportation of horses - mainly race horses - across the country. Mainly, JHT is responsible for carrying horses based in Miho Training Center to races held by JRA and local races (held by National Association of Racing).
Thus, the main transportation route is between Miho Training Center and JRA's 10 racecourses, along with local racecourses which hold interexchange races with JRA. A horse listed in a race is usually transported before race day (such as those planning to stay long term at a racecourse and/or those that require long-distance travel) or in the early hours of race day (such as those that only require short-distance travel).
JHT holds about 90 horse vans that were originally large buses but were specifically enhanced to load horses. One horse van can carry a maximum 4 horses, in addition to room for grooms or stable personnel.