Company Profile
| | |
| --- | --- |
| Name | Hidaka Training and Research Center (JRA) |
| Location | Nishicha 535-13, Urakawa-cho, Urakawa-gun, Hokkaido 057-0171, Japan |
| Tel | +81-146-28-1211 |
| Fax | +81-146-28-1416 |
*

Hidaka Training and Research Center is one of JRA's institutions.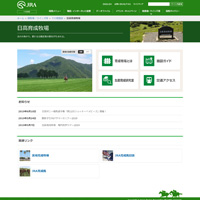 Objective/activities
Based in Japan's capital of thoroughbred breeding and training of Hidaka, Hokkaido Prefecture, the JRA Hidaka Training and Research Center (former Hidaka Yearling Training Farm) aims to develop breeding and rearing methods with scientific basis and to disseminate the methods to breeders in order to produce "world-class horses." Following are specific methods to achieve that goal.
JRA purchases yearlings at sales every year, and the Hidaka Training and Research Center considers the most efficient training methods after closely examining their growth and change in physiology. The result of such examination is shared among private breeders. At JRA's Breezeup Sale, where these trained yearlings are sold, the Training Farm has worked to disclose various information relevant in making the decision to purchase a horse for the purpose of questioning the current system in sales market where the disclosure of information is not enough.
Also, to produce and train tough thoroughbreds, the Hidaka Training and Research Center conducts research and promotes its findings on various topics, such as breeding, nutrition, physical science, horseshoeing, clinical practice, etc., to develop the best suited management system and technology appropriate with Japan's weather and climate.
The facility creates opportunities for the general public and students to get accustomed to horseback riding, while strongly pursuing educational activities for students with interest in equestrian study.
On the other hand, the Hidaka Blood Horse Training Facility, located within the Hidaka Training and Research Center, has various tracks for training - including three indoor tracks - open for use to private trainers. The maintenance of this training facility is entrusted to the "Bloodhorse Training Center," which also handles cultivation of gearing and training personnel with JRA's backup.