Company Profile
| | |
| --- | --- |
| Name | JRA Facilities Co., Ltd. |
| Location | 3-19-9, Hatchobori, Chuo-Ku, Tokyo 104-0032, Japan |
| Tel | +81-3-6631-9000 |
| Fax | +81-3-6631-9010 |
| Office hours | 9:30~17:30 |
| Established | December 20, 1955 |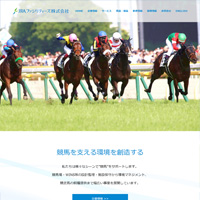 Objective/activities
In order for JRA to smoothly carry out fair and safe operations in horseracing, JRA Facilities is responsible for the indirect duties involved in the horseracing industry. Collaborating among the operational headquarters, we serve to entertain horseracing fans, as well as pitch sales to the involved parties.
The Environmental Program Headquarters is in charge of cleanup duties of each racecourse, in and around the WINS (off-course betting facilities), as well as printing and production work of the race programs, results and media material. Also, we sell racing related equipment - such as special number saddle cloth used in training for horses running in main races and racing helmets - and manage restaurant, cafe, concession stands at racecourses and WINS.
The Facility Program Headquarters handles the design and supervision of the racecourse stands, stables, tracks, and paddock areas in Japan. We have also been engaged in the design and supervision of tracks around the Asian countries. We are also in charge of the maintenance of tracks and buildings of the racecourses and training centers, as well as electrical services.
The Feeding Program Headquarters prepares a variety of feed and supplements for the race horses. In order to meet the demand for each individual horse, we thrive to provide the highest quality product at a reasonable price. Other than feed, we also carry nutrition product, and horse and stable equipment, among other things.
The Insurance Program Headquarters serves as the insurance agency for JRA and its affiliated companies. We provide insurance consulting service, handle the necessary procedures to apply for and renew damage and life insurances, and also propose the best suited coverage to match the customer's needs.