Company Profile
| | |
| --- | --- |
| Name | JRA System Service Co., Ltd. |
| Location | Eitai Daiya-Building, 1-14-5 Eitai, Koto-ku, Tokyo 135-0034, Japan |
| E-mail | toiawase1@jrass.jp |
| Office hours | 9:30~17:30 |
| Established | September, 1955 |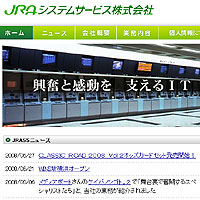 Objective/activities
Following are the main activities of JRA System Service:
Operation, maintenance of JRA system
Matching that of large banks in Japan, JRA System Service runs a massive, top-level network system with high reliability. With increasing number of online and mobile betters and users for various services, it has committed to develop and maintain various network protocol and devices. By collaborating with internet service providers and internet banks, JRA System Service is working to operate a stable system to match the customer's needs.
Development of JRA system
Beginning with the "Totalizator System" which runs JRA's raceday operation of sales, counting of ticktes sold, and pay-off, JRA System Service also constructs the backbone of sending live race feeds and odds to racecourses and WINS (off-course betting facilities), as well as an information managerial system to track the latest data on racehorses. Using the latest and high reliable information technology, JRA System Service develops various types of systems by accepting orders for furthuer development.
Information service business
JRA System Service is committed to providing fast, accurate and mass information to all racing fans. By vertically and horizontally integrating the amass data, it will continue to propose and introduce new ways to enjoy horseracing.
Planning and supervision of computerized facilities
From the "center system" to the betting terminals at racecourses, it is widely involved in the planning and supervision of computerized facilities. Lately, JRA System Service planned and supervised the equipment work of the three-faced, "multi turf vision" screen at Tokyo Racecourse, which entered the Guiness Book of Records for the world's largest image screen.
Equipment lease business
For system-related devices and other equipment investment, JRA System Service also provides fundamental support by renting its resources. By working in close collaboration with on-site operation managers, it can assist to manage one's assets in an integrated and efficient way.