Company Profile
| | |
| --- | --- |
| Name | Laboratory of Racing Chemistry |
| Location | 1731-2, Tsuruta-machi, Utsunomiya, Tochigi 320-0851, Japan |
| Tel | +81-28-647-4455 |
| Fax | +81-28-647-4458 |
| E-mail | https://www.lrc.or.jp/english/#contact |
| Office hours | 9:00~17:00 |
| Established | August 1, 1965 |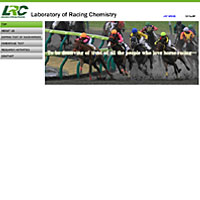 Objective/activities
Laboratory of Racing Chemistry (LRC) was established in 1965 as a non-profit foundation dedicated to conduct drug testing for racehorces, and develop and refine its methods. In 1973, LRC started providing parentage/individual verification tests and studies. Also, to maintain integrity of racing and to exclude unqualified horses from competitions, LRC serves as the nation's only institution to conduct drug testing on race horses and examinations to retain correct information of bloodlines.
Under Horseracing Law, drug testing is conducted to detect any illegal substances within horses having run in races. In 2004, LRC's drug testing service was approved ISO/IEC 17025 accreditation by the international specifications for the performance of laboratory testing. In order to prevent unintentional positive drug testing results, LRC also conducts tests on feeds used for race horses.
Examinations on parentage/individual verifications are conducted to prove the parental relation when registering a light-breed horse. Since 2002, in order to further advance the accuracy of the examination, a DNA-type testing was adopted instead of the existing blood-type testing. Through such research and testings on drug testing and parental verification, LRC has dedicated to maintaining the integrity of horseracing and contributed to advancement of studies in this field.