Company Profile
| | |
| --- | --- |
| Name | Miki Horseland Park |
| Location | Takagi, Bessho-cho, Miki, Hyogo 673-0435, Japan |
| Tel | +81-120-816-892 |
| Fax | +81-794-83-8081 |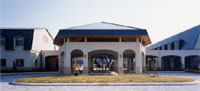 Objective/activities
Traditionally known as a city to manufacture metallic material for carpenters and as Japan's No.1 growing center for the most premier sake brewer's rice "Yamadanishiki," Miki City in Hyogo Prefecture is home to the Miki Horseland Park, which was built in April 1999.
The park, with abundant greenery of Mount Miki, offers a spot for people to interact with horses. Through various exchange programs, the park's main objective is to enhance the well-being of its surrounding citizens (by encouraging interaction among community members), as well as to contribute to the promotion of equestrian culture. The horseland park, established based on the "Human Green Plan" aiming to create an arena for people to interact with the wildlife, is built on 162 acres of land.
Inside the park, there are indoor and outdoor paddocks to host equestrian competitions, visiting stables (200), international stables for quarantine purposes, an 880-meter track, and other equestrian facilities including a cross-country course and a trecking course, both of which are uniquely running through the forest and able to host international equestrian events. There is a "learning center" equipped with accomodation facility (for a maximum of 162 people), indoor athletic facility, meeting rooms and restaurants. Also, there are some outdoor settings including camping ground, sports facilities and others where people can enjoy nature.
Under the Equestrian Culture Propagation Project, the park hosts events where visitors can test-ride on a horse led by the park's horseback staff or horse cart, give feed to ponies, and get a first-hand experience in touching horses on exhibition. The project also conducts horse riding lessons for beginners, horsetrecking, and rents its facilities for various competition events - not to mention the hosting of top-level equestrian competition.
The Outdoor Activity Project holds a number of events, such as promoting various sports through lectures and tournaments; an "outdoor" classroom through nature walk; handcraft workshops; assistance of parental care through holding "outdoor" classroom for small children; and supporting schools interested in holding extracurricular activities.
The Miki Horseland Park is well-equipped to entertain all families. We hope to welcome you in the near future!