Company Profile
| | |
| --- | --- |
| Name | The Japan Farriery Association |
| Location | JRA Shimbashi Bunkan 7F, 4-5-4 Shimbashi, Minato-Ku, Tokyo 105-0004, Japan |
| Tel | +81-3-6821-4450 |
| Fax | +81-3- 6821-4460 |
| Office hours | 9:30~17:30 |
| Established | September 1948 |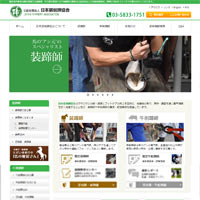 Objective/activities
Following are the main activities of The Japan Farriery Association (JFA):
1. Training/education, qualification of farriers
The JFA operates the "Farriers Education Center," Japan's only certified farriers training organization. The center is an all-dormitory, paid system for one year, composed of 16 students.
Lectures will run up to more than 1,310 hours, while subjects of study vary from anatomy of legs and hooves, physiology, pathology, biomechanics, principle of horse shoeing, general equine science, etc. Practical subjects include forging, hoof trimming, standard skill of shoeing, therapeutic and pathological shoeing, horse riding, etc.
There are approximately 600 certified farriers from the center who have gone on to pursue careers as specialists in the breeding areas, racecourses and training centers across the country, and in horseback riding industry, etc.
2. By registering certified farriers as members and systematizing them into groups around the country, the JFA - with contribution to society in mind - aims to develop the farrier industry.
3. Examination/research on farrying technology
Collaborating with Equine Research Institute (JRA), the JFA conducts research on health management of hooves and on horseshoeing. To introduce the results of such research to shoeing education and actual operation, the JFA organizes lectures across the country.
4. Organization of All Japan Farriery Competition
The JFA holds an annual competition event in October, gathering top farriers (maximum 40) who have passed the preliminary rounds.
5. Promotion of international exchange
Every year, the JFA invites one prominent farrier from abroad as a lecturer to gather and spread information and technology of outside countries. At the same time, the JFA sends out the winner of the All Japan Farriery Competition to an international farriery competition to promote exchange of horshoeing technology.
6. Publication and sales of journals and horseshoeing-related academic books (all Japanese)
7. Conducting similar businesses for cow hoof trimmers