2021 News
February 22, 2021
---
Japan team dominates Saudi Cup Day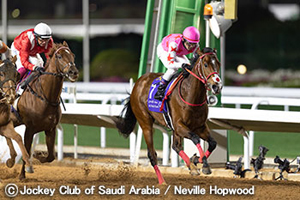 Pink Kamehameha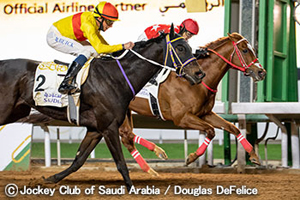 Copano Kicking (left), Matera Sky (right)
Pink Kamehameha captures Derby, Copano Kicking, Matera Sky one-two in Sprint
Japanese horses were back to revenge their losses in the inaugural Saudi Cup of 2020 and, from a team of five in three events, took home two firsts and a second from three of eight races held Saturday, Feb. 20 at the King Abdul Aziz Racecourse in the Saudi Arabian capital of Riyadh.
The event, known as the Saudi Cup, is a two-day gala of racing organized by the Jockey Club of Saudi Arabia and staged at the King Abdul Aziz Racecourse, a venue named after the country's founder and first king. The event was begun last year and boasts a total worth of over U.S.$30 million. Saturday, Saudi Cup Day, featured eight races, three on turf, five on dirt and finishing with the top event, the namesake Saudi Cup, which alone boasts a total purse of US$20 million and a first-place prize of $10 million.
A team of five horses flew in from Japan to participate in three of Saturday's events, namely the final three races – the 1,600-meter Saudi Derby, the 1,200-meter Riyadh Dirt Sprint and the 1,800-meter Saudi Cup.
First up was the Saudi Derby shortly after 7 p.m. local time. Breaking from the No. 8 gate was Pink Kamehameha, the only Japan representative in the field of 12. He set the pace and went wire to win for a first-place bounty of $900,000 and accolades for owner Hisako Kimura.
The Leontes-sired 3-year-old colt gave the Ritto-based trainer Hideyuki Mori his second win of the Saudi Derby in as many years. Last year, Mori had fielded the winner Full Flat, a 3-year-old colt by Speightstown and ridden by Yutaka Take.
Clocking 1 minute 38.6 seconds, Pink Kamehameha was 0.7 seconds slower than Full Flat had been last year, when he beat Mishriff by 2 1/4 lengths, but Pink Kamehameha's prowess at the break helped speed him to the front and home in first.
Runnerup Cowan was left standing at the gate just long enough to give Pink Kamehameha the edge. Mori says, "The jockey had a lot of horse left heading into the straight. It was his first start on dirt but the ground had some moisture in it and I think that may have helped.
Piloting the winner was Keita Tosaki, who had rides in all three races with Japanese runners. "I was riding him for the first time in a race," Tosaki says of Pink Kamehameha. "He felt good and it was a fantastic run for his first time over dirt. He has always been good at the break and today too he was away smartly."
On Cowan was Joel Rosario, who had initially been pegged to ride Pink Kamehameha, but had switched horses in order to fill in for Umberto Rispoli, who had been caught up in travel snaggles and was unable to make it to Riyadh.
"He missed the break," said Rosario of Cowan. "Right when they opened the gate his head was turned. He lost the break, but he came running. They went very fast up front and he almost got there. It was a good run from him."
* * *
The Riyadh Dirt Sprint followed at 7:50 p.m. and Japan continued its roll as Copano Kicking and Matera Sky turned in a one-two finish for a total of $1.2 million in prize money between the two of them.
This time it was William Buick in the winner's saddle. Copano Kicking, a 6-year-old gelding by Spring At Last broke from the No. 12 gate and raced from the rear but managed to top the field and runnerup Matera Sky, under Keita Tosaki, by a quarter of a length.
Copano Kicking advanced from the back of the field with a furlong to go and was able to catch and pass the runnerup. "He was slowly away but I was soon on the tails of the leaders coming into the bend and he picked up really well," said Buick.
Winning trainer Akira Murayama said, "It was my first overseas bid so I didn't have experience. I did my best, doing what I would normally do back in Japan.
"I didn't know if the Saudi Arabian course would suit him or not but I'm so glad he won."
Copano Kicking, bred in the United States by Reiley McDonald, is owned by Sachiaki Kobayashi. Copano Kicking has now tallied 10 wins, 4 seconds and 3 thirds from 21 starts.
"He's a horse that is sensitive and easily agitated and rather difficult to train, so I held back on training while he was here," Murayama said.
Murayama's instincts paid off, however, and the Ritto-based trainer says he plans to go to Dubai next. "I want to take on the challenge of many more races overseas and win. Though, it is enough just to see owner Kobayashi so overjoyed."
It was the second time the Hideyuki Mori-trained Matera Sky had come frustratingly close. "I think Matera Sky ran a good race," said Tosaki. Just when I actually had thought I'd won, he was overtaken. But, he put in a very good race." Last year, Matera Sky had also looked set for the winner's circle, only to be overtaken in the final stages by New York Central and relegated to second by a neck. This year, New York Central finished a dismal two off the rear under Lanfranco Dettori in the field of 13.
Japan's other runner in the Sprint was Justin, a 5-year-old by Orfevre, fielded by Yoshito Yahagi and ridden by stable jockey Ryusei Sakai. Justin finished in sixth place some 6 lengths off the winner, a spot that still put him in the money for $30,000. "It was incredibly frustrating," said the 23-year-old Sakai. "He was very agitated in the gate and missed the break."  
* * *
The highlight of the day was the eighth and final race, the Saudi Cup, run at 8:40 p.m. local time and alone worth $20 million. The win went to the John Gosden-trained winner Mishriff, who caught Charlatan in the final strides.
Japan's only runner in the 1,800-meter dirt event was a 6-year-old son of King Kamehameha by the name of Chuwa Wizard , trained by Ryuji Okubo. Chuwa Wizard was unable to gain ground and failed to better the sixth and seventh place scored by Japan's Gold Dream and Chrysoberyl in last year's Cup.
Jockey Keita Tosaki said, "He seemed to slip at the break and after that he didn't make as much progress as he did over the dry track he'd worked on before coming here. I guess the rain-affected track was a factor."
Chuwa Wizard was still able to bring home earnings. His ninth-place finish a full 3.4 seconds behind Mishriff in the gala's headliner still translated to $300,000 in prize money for owner Shinobu Nakanishi.
Pink Kamehameha won in the Saudi Derby.
Copano Kicking won in the Riyadh Dirt Sprint.
Matera Sky finished 2nd in the Riyadh Dirt Sprint.
Justin finished 6th in the Riyadh Dirt Sprint.
Chuwa Wizard finished 9th in the Saudi Cup.
Official Results

* Please visit the following website for more information.
Equestrian Club of Riyadh